Blackbaud, Inc. (NASDAQ:BLKB) issued an update on its FY17 earnings guidance on Monday morning. The company provided earnings per share guidance of $2.06-2.18 for the period, compared to the Thomson Reuters consensus earnings per share estimate of $2.13. The company issued revenue guidance of $775-795 million, compared to the consensus revenue estimate of $787.51 million.
Shares of Blackbaud, Inc. (NASDAQ BLKB) opened at 83.44 on Friday. Blackbaud, Inc. has a 52-week low of $55.88 and a 52-week high of $93.81. The company has a 50 day moving average of $87.90 and a 200 day moving average of $80.60. The firm has a market capitalization of $3.89 billion, a PE ratio of 80.31 and a beta of 0.77.
Blackbaud (NASDAQ:BLKB) last issued its earnings results on Monday, July 31st. The technology company reported $0.39 earnings per share for the quarter, missing analysts' consensus estimates of $0.51 by $0.12. The business had revenue of $192.50 million during the quarter, compared to analyst estimates of $193.66 million. Blackbaud had a net margin of 6.46% and a return on equity of 30.88%. Blackbaud's revenue for the quarter was up 6.4% on a year-over-year basis. During the same quarter in the prior year, the company earned $0.46 EPS. On average, analysts anticipate that Blackbaud, Inc. will post $2.14 earnings per share for the current fiscal year.
The firm also recently announced a quarterly dividend, which will be paid on Friday, September 15th. Stockholders of record on Monday, August 28th will be issued a $0.12 dividend. The ex-dividend date of this dividend is Thursday, August 24th. This represents a $0.48 dividend on an annualized basis and a dividend yield of 0.58%. Blackbaud's dividend payout ratio is 47.06%.
A number of equities analysts recently commented on the company. B. Riley restated a neutral rating and issued a $78.00 price objective on shares of Blackbaud in a report on Monday, August 7th. Benchmark Co. dropped their price objective on Blackbaud from $100.00 to $90.00 and set a buy rating on the stock in a report on Tuesday, June 27th. Stifel Nicolaus upped their target price on Blackbaud from $79.00 to $83.00 and gave the stock a buy rating in a research report on Monday, May 1st. Finally, Zacks Investment Research cut Blackbaud from a hold rating to a sell rating in a research report on Thursday, May 4th. Two equities research analysts have rated the stock with a sell rating, three have assigned a hold rating and four have given a buy rating to the company. The stock currently has an average rating of Hold and an average price target of $81.71.
In other Blackbaud news, insider Michael P. Gianoni sold 4,000 shares of the stock in a transaction on Tuesday, August 8th. The stock was sold at an average price of $87.77, for a total transaction of $351,080.00. Following the completion of the transaction, the insider now directly owns 258,921 shares in the company, valued at $22,725,496.17. The transaction was disclosed in a filing with the Securities & Exchange Commission, which is accessible through this hyperlink. Also, EVP John J. Mistretta sold 596 shares of the firm's stock in a transaction on Monday, May 22nd. The shares were sold at an average price of $82.00, for a total value of $48,872.00. Following the completion of the sale, the executive vice president now owns 86,278 shares of the company's stock, valued at $7,074,796. The disclosure for this sale can be found here. Insiders have sold 17,643 shares of company stock valued at $1,498,050 over the last quarter. Corporate insiders own 2.74% of the company's stock.
WARNING: This report was first posted by Community Financial News and is owned by of Community Financial News. If you are reading this report on another website, it was copied illegally and reposted in violation of US & international copyright and trademark law. The original version of this report can be accessed at https://www.com-unik.info/2017/08/19/blackbaud-inc-nasdaqblkb-issues-fy17-earnings-guidance-updated-updated.html.
About Blackbaud
Blackbaud, Inc is a cloud software company. The Company offers a range of cloud and on-premise solutions, as well as a resource network that empowers and connects organizations of all sizes. Its segments include the General Markets Business Unit (the GMBU), the Enterprise Customer Business Unit (the ECBU) and the International Business Unit (the IBU).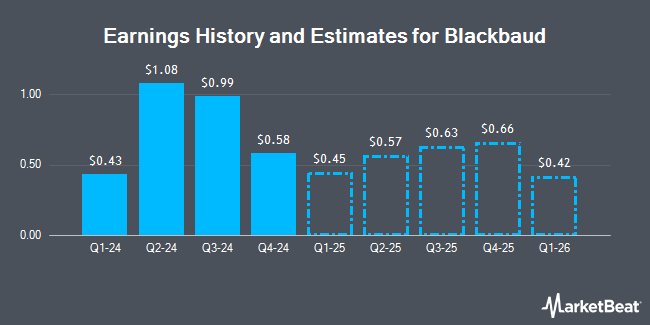 What are top analysts saying about Blackbaud Inc.? - Enter your email address in the form below to receive our free daily email newsletter that contains the latest headlines and analysts' recommendations for for Blackbaud Inc. and related companies.