Zacks Investment Research upgraded shares of Royal Dutch Shell plc (NYSE:RDS.A) from a hold rating to a buy rating in a research report sent to investors on Wednesday. They currently have $71.00 price target on the energy company's stock.
According to Zacks, "We take a positive stance on Royal Dutch Shell plc. In particular, there are a few reasons to be bullish on Europe's largest oil company, whose ADRs have handily outperformed smaller rival BP over the past year. While the Buy-rated supermajor has been able to manage its expenses and progress on its large divestment program, the remarkable speed of its BG integration is what stands apart. Importantly, the company generated a surge in cash flows during the most recent quarter, allowing it to cut debt and cover its cash dividend. As it is, we are a fan of the company's strong and diversified portfolio of development projects that offer attractive long-term opportunities."
RDS.A has been the topic of a number of other research reports. Piper Jaffray Companies reiterated a buy rating on shares of Royal Dutch Shell plc in a report on Thursday, October 19th. Jefferies Group LLC set a $63.00 target price on Royal Dutch Shell plc and gave the company a buy rating in a report on Tuesday, August 29th. Finally, Scotiabank set a $54.00 target price on Royal Dutch Shell plc and gave the company a hold rating in a report on Tuesday, August 8th. One investment analyst has rated the stock with a sell rating, four have issued a hold rating and eleven have assigned a buy rating to the company's stock. The company currently has an average rating of Buy and a consensus price target of $58.78.
Royal Dutch Shell plc (RDS.A) opened at $64.10 on Wednesday. The company has a debt-to-equity ratio of 0.41, a quick ratio of 0.92 and a current ratio of 1.24. Royal Dutch Shell plc has a 52-week low of $48.07 and a 52-week high of $64.24. The stock has a market capitalization of $265.68 billion, a P/E ratio of 20.58, a price-to-earnings-growth ratio of 3.66 and a beta of 1.08.
Royal Dutch Shell plc (NYSE:RDS.A) last released its quarterly earnings results on Thursday, November 2nd. The energy company reported $0.50 earnings per share for the quarter, missing analysts' consensus estimates of $0.82 by ($0.32). The firm had revenue of $75.83 billion during the quarter, compared to analyst estimates of $74.15 billion. Royal Dutch Shell plc had a return on equity of 6.69% and a net margin of 3.71%. The business's revenue was up 22.6% on a year-over-year basis. During the same quarter in the prior year, the company earned $0.70 EPS. sell-side analysts forecast that Royal Dutch Shell plc will post 3.51 earnings per share for the current fiscal year.
COPYRIGHT VIOLATION NOTICE: This story was first posted by Community Financial News and is owned by of Community Financial News. If you are viewing this story on another site, it was stolen and republished in violation of U.S. and international trademark and copyright legislation. The original version of this story can be read at https://www.com-unik.info/2017/11/04/royal-dutch-shell-plc-rds-a-lifted-to-buy-at-zacks-investment-research.html.
Royal Dutch Shell plc Company Profile
The Royal Dutch Shell plc explores for crude oil and natural gas around the world, both in conventional fields and from sources, such as tight rock, shale and coal formations. The Company's segments include Integrated Gas, Upstream, Downstream and Corporate. The Integrated Gas segment is engaged in the liquefaction and transportation of gas and the conversion of natural gas to liquids to provide fuels and other products, as well as projects with an integrated activity, ranging from producing to commercializing gas.
Get a free copy of the Zacks research report on Royal Dutch Shell plc (RDS.A)
For more information about research offerings from Zacks Investment Research, visit Zacks.com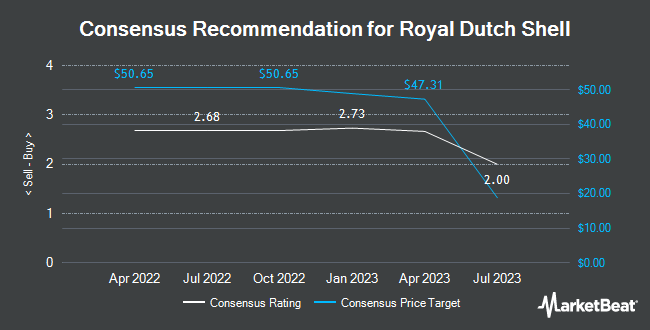 What are top analysts saying about Royal Dutch Shell plc? - Enter your email address in the form below to receive our free daily email newsletter that contains the latest headlines and analysts' recommendations for for Royal Dutch Shell plc and related companies.