WealthTrust Axiom LLC lifted its position in Energy Focus, Inc. (NASDAQ:EFOI) by 8.5% during the 3rd quarter, according to the company in its most recent Form 13F filing with the SEC. The institutional investor owned 461,144 shares of the construction company's stock after buying an additional 36,150 shares during the period. WealthTrust Axiom LLC owned about 3.89% of Energy Focus worth $1,258,000 as of its most recent SEC filing.
COPYRIGHT VIOLATION NOTICE: This report was originally reported by Community Financial News and is owned by of Community Financial News. If you are accessing this report on another publication, it was illegally copied and republished in violation of U.S. & international copyright law. The original version of this report can be read at https://www.com-unik.info/2017/11/06/wealthtrust-axiom-llc-has-1-26-million-stake-in-energy-focus-inc-efoi.html.
EFOI has been the topic of several analyst reports. Zacks Investment Research upgraded shares of Energy Focus from a "hold" rating to a "buy" rating and set a $2.25 target price on the stock in a research note on Friday, August 11th. ValuEngine downgraded shares of Energy Focus from a "sell" rating to a "strong sell" rating in a research note on Tuesday, September 26th. HC Wainwright reiterated a "buy" rating and issued a $6.00 target price on shares of Energy Focus in a research note on Thursday, August 10th. Finally, Roth Capital set a $2.00 target price on shares of Energy Focus and gave the stock a "hold" rating in a research note on Friday, October 6th. One analyst has rated the stock with a sell rating, two have issued a hold rating and two have given a buy rating to the company's stock. The stock presently has a consensus rating of "Hold" and a consensus target price of $3.75.
Shares of Energy Focus, Inc. (NASDAQ EFOI) traded up $0.18 during trading on Monday, reaching $2.67. 5,046 shares of the company were exchanged, compared to its average volume of 19,471.
Energy Focus (NASDAQ:EFOI) last issued its quarterly earnings results on Wednesday, August 9th. The construction company reported ($0.17) earnings per share (EPS) for the quarter, topping the Thomson Reuters' consensus estimate of ($0.32) by $0.15. The business had revenue of $6.01 million for the quarter, compared to analysts' expectations of $5.24 million. Energy Focus had a negative net margin of 72.83% and a negative return on equity of 43.27%. The business's quarterly revenue was down 15.6% on a year-over-year basis. During the same quarter in the prior year, the company earned ($0.34) earnings per share. equities analysts forecast that Energy Focus, Inc. will post -1.01 earnings per share for the current fiscal year.
Energy Focus Company Profile
Energy Focus, Inc along with its subsidiaries is engaged in the design, development, manufacturing, marketing, installation and sale of lighting systems. The Company is engaged in developing and selling of light-emitting diode (LED) lighting products for military maritime market, and general commercial and industrial markets.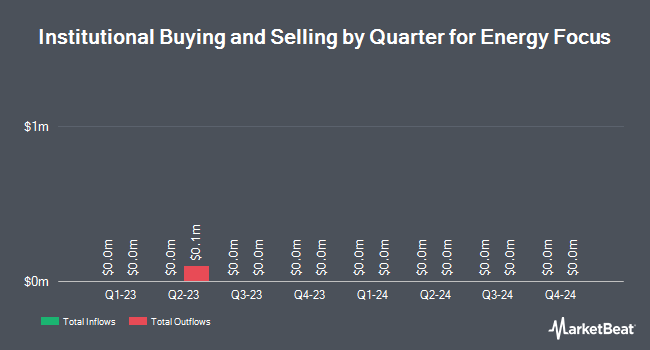 What are top analysts saying about Energy Focus Inc.? - Enter your email address in the form below to receive our free daily email newsletter that contains the latest headlines and analysts' recommendations for for Energy Focus Inc. and related companies.