Lonmin (LON:LMI)'s stock had its "hold" rating reissued by Peel Hunt in a report issued on Wednesday. They currently have a GBX 85 ($1.14) price objective on the mining company's stock. Peel Hunt's price target suggests a potential upside of 1.80% from the company's current price.
Several other brokerages have also weighed in on LMI. Liberum Capital reiterated a "sell" rating and set a GBX 15 ($0.20) price objective on shares of Lonmin in a report on Wednesday, October 18th. Barclays raised their price target on shares of Lonmin from GBX 55 ($0.74) to GBX 80 ($1.08) and gave the company an "underweight" rating in a report on Tuesday, October 24th. Shore Capital Group restated a "not rated" rating on shares of Lonmin in a report on Friday, November 3rd. Finally, Shore Capital restated a "not rated" rating on shares of Lonmin in a report on Friday, November 3rd. Three investment analysts have rated the stock with a sell rating and five have given a hold rating to the stock. The stock has a consensus rating of "Hold" and a consensus price target of GBX 88.11 ($1.19).
Lonmin (LMI) opened at GBX 83.50 ($1.12) on Wednesday. Lonmin has a 1-year low of GBX 55.75 ($0.75) and a 1-year high of GBX 186.75 ($2.51).
WARNING: This article was posted by Community Financial News and is the sole property of of Community Financial News. If you are accessing this article on another site, it was illegally copied and reposted in violation of US and international copyright legislation. The correct version of this article can be read at https://www.com-unik.info/2017/12/20/lonmin-lmi-receives-hold-rating-from-peel-hunt.html.
Lonmin Company Profile
Lonmin Plc is a producer of platinum group metals (PGMs). The Company is engaged in the discovery, extraction, refining and marketing of PGMs. The Company's segments include PGM Operations, Evaluation, Exploration and Other. Its geographical segments include The Americas, Asia, Europe and South Africa.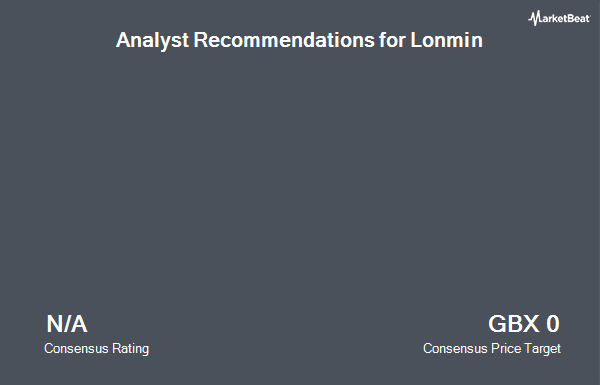 Receive News & Ratings for Lonmin Daily - Enter your email address below to receive a concise daily summary of the latest news and analysts' ratings for Lonmin and related companies with MarketBeat.com's FREE daily email newsletter.