CalAmp (NASDAQ:CAMP) updated its fourth quarter earnings guidance on Thursday. The company provided EPS guidance of $0.27-0.33 for the period, compared to the Thomson Reuters consensus EPS estimate of $0.32. The company issued revenue guidance of $91-96 million, compared to the consensus revenue estimate of $93.31 million.
Several equities analysts recently issued reports on the company. B. Riley reaffirmed a buy rating on shares of CalAmp in a research report on Tuesday. ValuEngine cut CalAmp from a buy rating to a hold rating in a research report on Friday, December 1st. TheStreet raised CalAmp from a c rating to a b rating in a research report on Friday, September 29th. Zacks Investment Research cut CalAmp from a buy rating to a hold rating in a research report on Wednesday, October 4th. Finally, J P Morgan Chase & Co cut CalAmp from a neutral rating to an underweight rating and set a $22.00 price target on the stock. in a report on Wednesday, October 4th. One equities research analyst has rated the stock with a sell rating, five have issued a hold rating and five have given a buy rating to the stock. The stock presently has an average rating of Hold and a consensus target price of $25.14.
CalAmp (NASDAQ:CAMP) traded up $0.10 during midday trading on Thursday, hitting $23.31. The stock had a trading volume of 394,300 shares, compared to its average volume of 301,120. The company has a market cap of $826.31, a PE ratio of 26.08 and a beta of 1.64. The company has a debt-to-equity ratio of 0.81, a current ratio of 2.72 and a quick ratio of 2.36. CalAmp has a 12-month low of $14.12 and a 12-month high of $24.68.
CalAmp (NASDAQ:CAMP) last released its quarterly earnings results on Thursday, September 28th. The Wireless communications provider reported $0.27 earnings per share for the quarter, beating the consensus estimate of $0.26 by $0.01. The firm had revenue of $89.80 million for the quarter, compared to analysts' expectations of $88.72 million. CalAmp had a return on equity of 18.18% and a net margin of 1.31%. The company's revenue was down .8% compared to the same quarter last year. During the same period in the prior year, the firm earned $0.27 EPS. analysts expect that CalAmp will post 0.95 EPS for the current fiscal year.
In other news, SVP Garo Sarkis Sarkissian sold 9,833 shares of the company's stock in a transaction on Thursday, October 5th. The stock was sold at an average price of $23.89, for a total value of $234,910.37. The transaction was disclosed in a document filed with the Securities & Exchange Commission, which is available through the SEC website. Also, Director Kimberly Alexy sold 25,000 shares of the company's stock in a transaction on Tuesday, October 24th. The stock was sold at an average price of $22.62, for a total value of $565,500.00. Following the completion of the sale, the director now owns 64,729 shares of the company's stock, valued at $1,464,169.98. The disclosure for this sale can be found here. Insiders sold a total of 52,833 shares of company stock valued at $1,216,660 over the last 90 days. 5.30% of the stock is currently owned by company insiders.
COPYRIGHT VIOLATION NOTICE: "CalAmp (CAMP) Issues Q4 Earnings Guidance" was reported by Community Financial News and is owned by of Community Financial News. If you are viewing this piece on another website, it was stolen and reposted in violation of US and international copyright laws. The correct version of this piece can be accessed at https://www.com-unik.info/2017/12/21/calamp-camp-issues-q4-earnings-guidance.html.
CalAmp Company Profile
CalAmp Corp. (CalAmp) is a provider of wireless communications solutions for a range of applications to customers globally. The Company operates through two business segments: Wireless DataCom and Satellite. The Company's Wireless DataCom segment offers solutions for mobile resource management (MRM) applications, the machine-to-machine (M2M) communications space and other markets that require connectivity anytime and anywhere.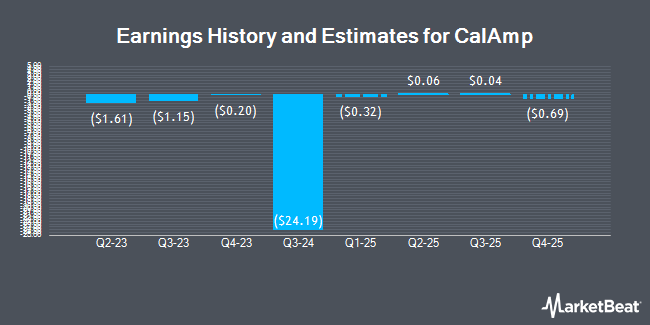 Receive News & Ratings for CalAmp Daily - Enter your email address below to receive a concise daily summary of the latest news and analysts' ratings for CalAmp and related companies with MarketBeat.com's FREE daily email newsletter.