Snc-Lavalin Group (TSE:SNC) had its price objective increased by Scotiabank from C$70.00 to C$73.50 in a research note published on Wednesday. Scotiabank currently has an outperform rating on the stock.
A number of other equities analysts have also recently issued reports on SNC. Royal Bank of Canada initiated coverage on Snc-Lavalin Group in a report on Monday, October 23rd. They set an outperform rating and a C$67.00 target price for the company. Canaccord Genuity increased their target price on Snc-Lavalin Group from C$76.00 to C$77.00 in a report on Tuesday, October 31st. Desjardins increased their target price on Snc-Lavalin Group from C$69.00 to C$72.00 in a report on Friday, November 3rd. Finally, BMO Capital Markets increased their target price on Snc-Lavalin Group from C$67.00 to C$68.00 in a report on Friday, November 3rd. One analyst has rated the stock with a hold rating, eight have issued a buy rating and one has given a strong buy rating to the company's stock. The company has a consensus rating of Buy and a consensus target price of C$70.72.
Snc-Lavalin Group (TSE SNC) traded up C$1.26 during mid-day trading on Wednesday, reaching C$58.00. The company's stock had a trading volume of 356,444 shares, compared to its average volume of 357,821. Snc-Lavalin Group has a 52-week low of C$50.28 and a 52-week high of C$59.63.
The business also recently disclosed a quarterly dividend, which was paid on Thursday, November 30th. Stockholders of record on Thursday, November 30th were issued a $0.273 dividend. This represents a $1.09 annualized dividend and a dividend yield of 1.88%. The ex-dividend date of this dividend was Wednesday, November 15th. Snc-Lavalin Group's payout ratio is 51.38%.
In related news, Director Benita Marie Warmbold acquired 3,000 shares of the firm's stock in a transaction dated Tuesday, November 14th. The stock was bought at an average price of C$56.79 per share, for a total transaction of C$170,370.00.
TRADEMARK VIOLATION WARNING: This report was originally published by Community Financial News and is the sole property of of Community Financial News. If you are reading this report on another domain, it was copied illegally and reposted in violation of international trademark & copyright laws. The correct version of this report can be read at https://www.com-unik.info/2017/12/21/snc-lavalin-group-snc-price-target-increased-to-c73-50-by-analysts-at-scotiabank.html.
Snc-Lavalin Group Company Profile
SNC-Lavalin Group Inc provides engineering and construction, and operations and maintenance services worldwide. The company operates through Mining & Metallurgy, Oil & Gas, Power, Infrastructure, and Capital segments. The company offers various solutions for projects in the aluminum, gold, copper, iron ore, nickel, fertilizer, sulphur, and other projects.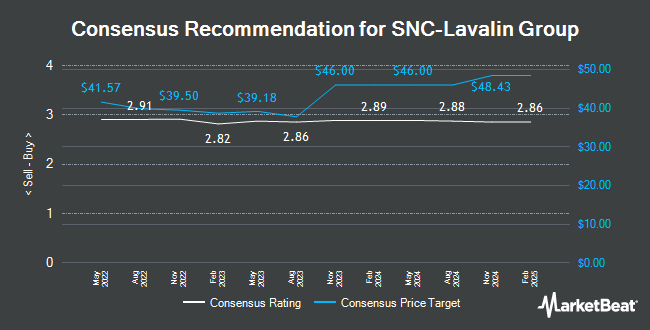 Receive News & Ratings for Snc-Lavalin Group Daily - Enter your email address below to receive a concise daily summary of the latest news and analysts' ratings for Snc-Lavalin Group and related companies with MarketBeat.com's FREE daily email newsletter.