Conifer Holdings Inc (NASDAQ:CNFR) Director Mark Mccammon sold 97,319 shares of the firm's stock in a transaction dated Wednesday, December 20th. The shares were sold at an average price of $5.78, for a total transaction of $562,503.82. Following the completion of the sale, the director now owns 9,000 shares of the company's stock, valued at approximately $52,020. The sale was disclosed in a document filed with the Securities & Exchange Commission, which can be accessed through the SEC website.
Mark Mccammon also recently made the following trade(s):
On Friday, December 8th, Mark Mccammon sold 1,982 shares of Conifer stock. The shares were sold at an average price of $6.00, for a total transaction of $11,892.00.
On Wednesday, December 6th, Mark Mccammon sold 53,699 shares of Conifer stock. The shares were sold at an average price of $6.07, for a total transaction of $325,952.93.
Shares of Conifer Holdings Inc (CNFR) opened at $5.65 on Friday. The company has a debt-to-equity ratio of 0.55, a current ratio of 0.54 and a quick ratio of 0.54. Conifer Holdings Inc has a 12-month low of $5.50 and a 12-month high of $8.20.
Separately, Boenning Scattergood restated a "hold" rating on shares of Conifer in a research report on Thursday, November 9th.
WARNING: This news story was first posted by Community Financial News and is the property of of Community Financial News. If you are accessing this news story on another domain, it was copied illegally and reposted in violation of US & international trademark & copyright laws. The legal version of this news story can be viewed at https://www.com-unik.info/2017/12/22/mark-mccammon-sells-97319-shares-of-conifer-holdings-inc-cnfr-stock.html.
About Conifer
Conifer Holdings, Inc is an insurance holding company. Through its insurance company subsidiaries, the Company offers insurance coverage in both specialty commercial and specialty personal product lines. It operates through two segments: commercial lines and personal lines. It is engaged in underwriting and marketing insurance coverage, and administering claims processing for such policies.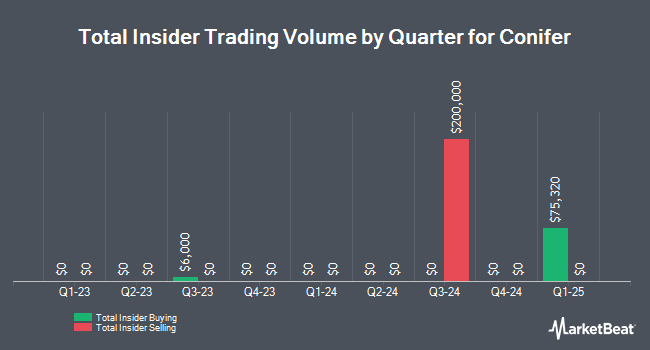 Receive News & Ratings for Conifer Daily - Enter your email address below to receive a concise daily summary of the latest news and analysts' ratings for Conifer and related companies with MarketBeat.com's FREE daily email newsletter.