Pershing Gold Corporation (NASDAQ:PGLC) Director Barry C. Honig acquired 64,000 shares of the company's stock in a transaction on Wednesday, December 20th. The shares were bought at an average price of $2.36 per share, with a total value of $151,040.00. The transaction was disclosed in a filing with the Securities & Exchange Commission, which can be accessed through this link.
Shares of Pershing Gold Corporation (NASDAQ PGLC) opened at $2.35 on Friday. Pershing Gold Corporation has a 12 month low of $2.26 and a 12 month high of $3.49.
Pershing Gold (NASDAQ:PGLC) last announced its earnings results on Monday, November 13th. The basic materials company reported ($0.09) earnings per share for the quarter, beating the Zacks' consensus estimate of ($0.10) by $0.01. analysts forecast that Pershing Gold Corporation will post -0.45 EPS for the current fiscal year.
An institutional investor recently raised its position in Pershing Gold stock. Vanguard Group Inc. grew its holdings in Pershing Gold Corporation (NASDAQ:PGLC) by 5.0% in the second quarter, according to the company in its most recent Form 13F filing with the SEC. The institutional investor owned 614,718 shares of the basic materials company's stock after buying an additional 29,018 shares during the quarter. Vanguard Group Inc. owned approximately 2.16% of Pershing Gold worth $1,715,000 at the end of the most recent reporting period. Institutional investors own 19.49% of the company's stock.
Several research analysts have issued reports on PGLC shares. Zacks Investment Research upgraded Pershing Gold from a "sell" rating to a "hold" rating in a research note on Tuesday, October 24th. HC Wainwright reiterated a "buy" rating and set a $10.00 price objective on shares of Pershing Gold in a research note on Tuesday, October 31st. Finally, Noble Financial reiterated a "buy" rating on shares of Pershing Gold in a research note on Wednesday, November 15th.
ILLEGAL ACTIVITY NOTICE: "Barry C. Honig Purchases 64,000 Shares of Pershing Gold Corporation (PGLC) Stock" was originally reported by Community Financial News and is the sole property of of Community Financial News. If you are accessing this piece on another domain, it was illegally stolen and reposted in violation of U.S. & international copyright and trademark legislation. The original version of this piece can be read at https://www.com-unik.info/2017/12/23/barry-c-honig-purchases-64000-shares-of-pershing-gold-corporation-pglc-stock.html.
Pershing Gold Company Profile
Pershing Gold Corporation is a gold and precious metals exploration company. The Company focuses on exploration, development and mining opportunities in Nevada. The Company is focused on exploration at its Relief Canyon properties in Pershing County in northwestern Nevada. The Company operates its business directly and also through its subsidiary, Gold Acquisition Corp.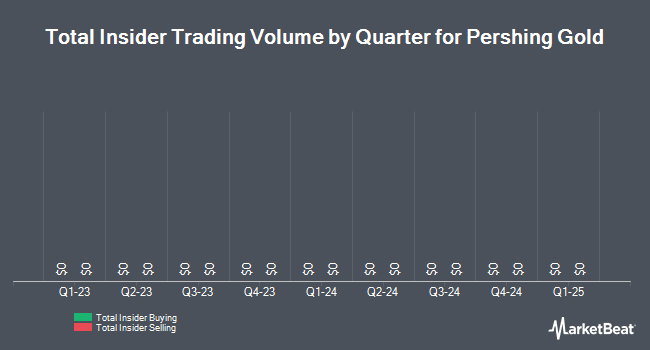 Receive News & Ratings for Pershing Gold Daily - Enter your email address below to receive a concise daily summary of the latest news and analysts' ratings for Pershing Gold and related companies with MarketBeat.com's FREE daily email newsletter.