Zacks Investment Research upgraded shares of BlackBerry (NYSE:BB) from a hold rating to a buy rating in a research note published on Friday morning. They currently have $14.00 price objective on the stock.
According to Zacks, "Shares of BlackBerry have outperformed its industry on a year-to-date basis. The stock has rallied 71.3% compared with its industry's gain of only 9.9%. Ushering in further good news, the company outperformed in the third quarter of fiscal 2018 driven by robust software sales. Moreover, BlackBerry's decision to focus exclusively on software business seems to be paying off. In fact, software and service revenues are estimated to rise between 10% and 15% in 2018. Growth of its cybersecurity business is also a huge positive. Additionally, the company has inked multiple deals to expand its software business. BlackBerry's projection of its free cash flow in fiscal 2018 is also encouraging. However, the unfavorable verdict in the Nokia case is disappointing. Charges pertaining to the issue hurt the bottom line in the fiscal third quarter as well."
A number of other equities research analysts have also recently weighed in on the company. Canaccord Genuity reaffirmed a hold rating and issued a $11.00 price objective on shares of BlackBerry in a research note on Thursday. BMO Capital Markets reiterated a hold rating and issued a $12.00 target price on shares of BlackBerry in a report on Thursday. TD Securities lifted their target price on BlackBerry from $12.00 to $14.00 and gave the company a buy rating in a report on Thursday. Royal Bank of Canada lifted their target price on BlackBerry from $10.50 to $11.00 and gave the company a sector perform rating in a report on Thursday. Finally, Vetr downgraded BlackBerry from a sell rating to a strong sell rating and set a $10.12 price target for the company. in a report on Wednesday, October 11th. Five analysts have rated the stock with a sell rating, nine have given a hold rating and five have issued a buy rating to the company's stock. The company currently has an average rating of Hold and an average price target of $10.14.
Shares of BlackBerry (
NYSE BB
) traded down $0.20 during trading hours on Friday, reaching $11.60. The company had a trading volume of 4,822,623 shares, compared to its average volume of 4,550,000. The company has a quick ratio of 5.17, a current ratio of 4.26 and a debt-to-equity ratio of 0.33. The firm has a market cap of $6,100.00, a price-to-earnings ratio of 12.08 and a beta of 1.09. BlackBerry has a 12 month low of $6.65 and a 12 month high of $12.36.
BlackBerry (NYSE:BB) last announced its quarterly earnings data on Wednesday, December 20th. The company reported ($0.52) earnings per share for the quarter, missing analysts' consensus estimates of ($0.03) by ($0.49). BlackBerry had a net margin of 37.36% and a return on equity of 3.70%. The firm had revenue of $235.00 million during the quarter, compared to analyst estimates of $216.70 million. During the same period in the prior year, the company posted $0.02 earnings per share. The firm's revenue for the quarter was down 21.9% on a year-over-year basis. equities analysts predict that BlackBerry will post -0.04 earnings per share for the current fiscal year.
TRADEMARK VIOLATION NOTICE: "BlackBerry (BB) Upgraded to "Buy" by Zacks Investment Research" was first reported by Community Financial News and is the sole property of of Community Financial News. If you are reading this report on another website, it was copied illegally and reposted in violation of US & international trademark & copyright laws. The correct version of this report can be read at https://www.com-unik.info/2017/12/23/blackberry-bb-upgraded-to-buy-by-zacks-investment-research.html.
About BlackBerry
BlackBerry Limited (BlackBerry) provides mobile communications solutions. The Company is engaged in the sale of smartphones and enterprise software and services. The Company's products and services include Enterprise Solutions and Services, Devices, BlackBerry Technology Solutions and Messaging. It is engaged in providing enterprise mobility management (EMM) and mobile security, and offers a portfolio of enterprise software solutions and services that can be deployed across a range of ecosystems and devices, including BlackBerry Enterprise Service (BES) 12 and Good Platforms, BES12 Cloud, enterprise file-sync-and-share (EFSS), SecuSUITE for Enterprise, Enhanced subscriber identity module (SIM)-Based Licensing (ESBL), WorkLife by BlackBerry solution and Professional Cybersecurity Services.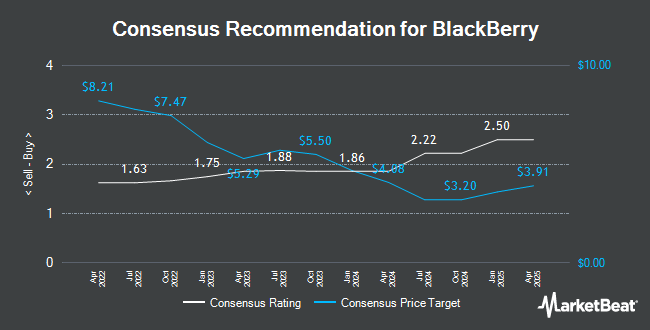 Receive News & Ratings for BlackBerry Daily - Enter your email address below to receive a concise daily summary of the latest news and analysts' ratings for BlackBerry and related companies with MarketBeat.com's FREE daily email newsletter.