Zacks Investment Research upgraded shares of ONEOK (NYSE:OKE) from a sell rating to a hold rating in a research note released on Friday morning.
According to Zacks, "In last six months shares of ONEOK have outperformed the industry it belongs to. ONEOK has widespread pipelines and storage facilities in some prolific oil and gas regions of the United States. ONEOK is poised to gain from increased drilling activities in the basin where the company has well-placed assets. The increase in fee-based earnings, acquisition of ONEOK Partners, capital-growth projects and increasing drilling activities from the producers will further boost the performance of the company. However, ONEOK is subject to strict regulations and intense competition in midstream energy services. Fluctuating weather pattern is also a major concern for the company."
Several other equities research analysts have also recently weighed in on the stock. Barclays initiated coverage on shares of ONEOK in a research note on Tuesday, September 5th. They issued an equal weight rating and a $58.00 target price for the company. Jefferies Group reissued a hold rating and issued a $52.00 price target (up previously from $51.00) on shares of ONEOK in a research report on Friday, September 1st. Mizuho initiated coverage on shares of ONEOK in a research report on Tuesday, October 10th. They issued a neutral rating and a $59.00 price target for the company. JPMorgan Chase & Co. reissued a neutral rating and issued a $58.00 price target on shares of ONEOK in a research report on Monday, September 11th. Finally, UBS Group increased their price target on shares of ONEOK from $60.00 to $61.00 and gave the stock a buy rating in a research report on Wednesday, November 1st. Ten analysts have rated the stock with a hold rating and six have issued a buy rating to the company. ONEOK currently has a consensus rating of Hold and an average target price of $59.07.
Shares of ONEOK (
NYSE:OKE
) opened at $53.21 on Friday. The company has a current ratio of 0.55, a quick ratio of 0.41 and a debt-to-equity ratio of 1.47. ONEOK has a fifty-two week low of $47.14 and a fifty-two week high of $59.47. The stock has a market cap of $20,790.00, a PE ratio of 33.26, a price-to-earnings-growth ratio of 3.26 and a beta of 1.26.
ONEOK (NYSE:OKE) last released its earnings results on Tuesday, October 31st. The utilities provider reported $0.43 earnings per share for the quarter, missing the Thomson Reuters' consensus estimate of $0.49 by ($0.06). ONEOK had a net margin of 3.76% and a return on equity of 9.25%. The company had revenue of $2.91 billion during the quarter, compared to the consensus estimate of $2.80 billion. During the same quarter in the previous year, the business posted $0.43 EPS. equities research analysts predict that ONEOK will post 1.78 EPS for the current fiscal year.
In related news, Director Brian L. Derksen purchased 1,800 shares of the firm's stock in a transaction dated Monday, November 20th. The shares were acquired at an average cost of $51.00 per share, with a total value of $91,800.00. The purchase was disclosed in a filing with the Securities & Exchange Commission, which is available through this hyperlink. 1.00% of the stock is owned by corporate insiders.
A number of hedge funds have recently made changes to their positions in the business. Atlantic Trust Group LLC bought a new position in ONEOK in the third quarter valued at approximately $60,206,000. Parametric Portfolio Associates LLC boosted its stake in ONEOK by 18.7% in the third quarter. Parametric Portfolio Associates LLC now owns 814,448 shares of the utilities provider's stock valued at $45,129,000 after acquiring an additional 128,030 shares during the last quarter. Chicago Partners Investment Group LLC bought a new position in ONEOK in the third quarter valued at approximately $6,241,000. Institutional & Family Asset Management LLC bought a new position in ONEOK in the third quarter valued at approximately $805,000. Finally, Steward Partners Investment Advisory LLC bought a new position in ONEOK in the third quarter valued at approximately $169,000. 70.89% of the stock is currently owned by hedge funds and other institutional investors.
COPYRIGHT VIOLATION NOTICE: "ONEOK (OKE) Raised to Hold at Zacks Investment Research" was reported by Community Financial News and is the property of of Community Financial News. If you are reading this piece of content on another site, it was copied illegally and republished in violation of US & international copyright and trademark laws. The correct version of this piece of content can be viewed at https://www.com-unik.info/2017/12/25/oneok-oke-raised-to-hold-at-zacks-investment-research.html.
About ONEOK
ONEOK, Inc is an energy midstream service provider in the United States. The Company owns and operates natural gas liquids (NGL) systems, and is engaged in the gathering, processing, storage and transportation of natural gas. THe Company's operations include a 38,000-mile integrated network of NGL and natural gas pipelines, processing plants, fractionators and storage facilities in the Mid-Continent, Williston, Permian and Rocky Mountain regions.
Get a free copy of the Zacks research report on ONEOK (OKE)
For more information about research offerings from Zacks Investment Research, visit Zacks.com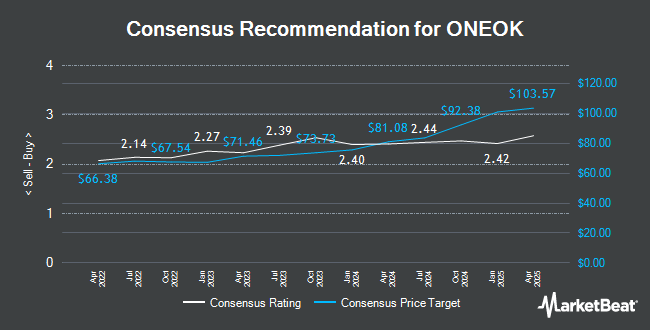 Receive News & Ratings for ONEOK Daily - Enter your email address below to receive a concise daily summary of the latest news and analysts' ratings for ONEOK and related companies with MarketBeat.com's FREE daily email newsletter.