Rand Logistics, Inc. (NASDAQ:RLOG) major shareholder Brent D. Baird sold 686,398 shares of the stock in a transaction dated Friday, December 22nd. The stock was sold at an average price of $0.18, for a total value of $123,551.64. Following the completion of the sale, the insider now owns 2,637,917 shares of the company's stock, valued at $474,825.06. The sale was disclosed in a filing with the Securities & Exchange Commission, which is available through this link. Major shareholders that own at least 10% of a company's shares are required to disclose their sales and purchases with the SEC.
Shares of Rand Logistics, Inc. (NASDAQ:RLOG) opened at $0.16 on Wednesday. Rand Logistics, Inc. has a fifty-two week low of $0.15 and a fifty-two week high of $1.93. The stock has a market capitalization of $2.96, a PE ratio of -0.12 and a beta of 1.24.
Separately, ValuEngine upgraded Rand Logistics from a "strong sell" rating to a "sell" rating in a report on Tuesday, November 7th.
An institutional investor recently raised its position in Rand Logistics stock. Renaissance Technologies LLC increased its position in shares of Rand Logistics, Inc. (NASDAQ:RLOG) by 11.4% in the first quarter, according to the company in its most recent disclosure with the SEC. The institutional investor owned 166,700 shares of the shipping company's stock after buying an additional 17,100 shares during the quarter. Renaissance Technologies LLC owned 0.90% of Rand Logistics worth $107,000 as of its most recent SEC filing. Hedge funds and other institutional investors own 20.36% of the company's stock.
COPYRIGHT VIOLATION WARNING: "Rand Logistics, Inc. (RLOG) Major Shareholder Brent D. Baird Sells 686,398 Shares of Stock" was first posted by Community Financial News and is owned by of Community Financial News. If you are reading this news story on another website, it was illegally copied and reposted in violation of international copyright & trademark laws. The original version of this news story can be read at https://www.com-unik.info/2017/12/27/rand-logistics-inc-rlog-major-shareholder-brent-d-baird-sells-686398-shares-of-stock.html.
About Rand Logistics
Rand Logistics, Inc is a shipping company that, through its operating subsidiaries, is engaged in the operation of bulk carriers on the Great Lakes. The Company's shipping business is operated in Canada by Lower Lakes Towing Ltd. (Lower Lakes Towing) and in the United States by Lower Lakes Transportation Company (Lower Lakes Transportation).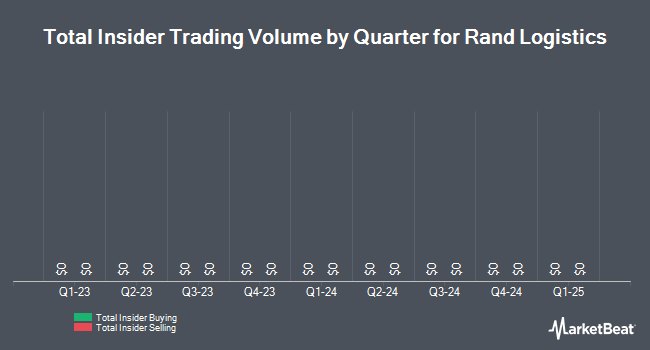 Receive News & Ratings for Rand Logistics Daily - Enter your email address below to receive a concise daily summary of the latest news and analysts' ratings for Rand Logistics and related companies with MarketBeat.com's FREE daily email newsletter.