Cranswick plc (LON:CWK) has earned a consensus rating of "Hold" from the eight research firms that are currently covering the firm, MarketBeat Ratings reports. Four investment analysts have rated the stock with a hold recommendation and three have assigned a buy recommendation to the company. The average 1 year price objective among brokers that have updated their coverage on the stock in the last year is GBX 2,945 ($39.94).
A number of equities analysts recently issued reports on CWK shares. Liberum Capital restated a "hold" rating and set a GBX 2,990 ($40.55) price objective on shares of Cranswick in a report on Monday, October 30th. Berenberg Bank boosted their price objective on Cranswick from GBX 3,225 ($43.73) to GBX 3,450 ($46.79) and gave the company a "buy" rating in a report on Friday, December 15th. Numis Securities upgraded Cranswick to an "add" rating and boosted their price objective for the company from GBX 2,870 ($38.92) to GBX 3,350 ($45.43) in a report on Tuesday, November 28th. Shore Capital restated a "house stock" rating on shares of Cranswick in a report on Tuesday, November 28th. Finally, Whitman Howard restated a "hold" rating and set a GBX 2,700 ($36.62) price objective on shares of Cranswick in a report on Friday, September 29th.
Cranswick (CWK) opened at GBX 3,314 ($44.94) on Wednesday. Cranswick has a 1-year low of GBX 2,226 ($30.19) and a 1-year high of GBX 3,497.81 ($47.43). The stock has a market capitalization of $1,690.00 and a price-to-earnings ratio of 2,529.77.
Cranswick (LON:CWK) last posted its quarterly earnings data on Tuesday, November 28th. The company reported GBX 70 ($0.95) earnings per share (EPS) for the quarter, beating the Zacks' consensus estimate of GBX 67.20 ($0.91) by GBX 2.80 ($0.04). Cranswick had a return on equity of 16.34% and a net margin of 4.98%. The company had revenue of £714.60 million during the quarter.
The company also recently announced a dividend, which will be paid on Friday, January 26th. Shareholders of record on Thursday, December 7th will be given a dividend of GBX 15.10 ($0.20) per share. This represents a yield of 0.48%. The ex-dividend date is Thursday, December 7th.
ILLEGAL ACTIVITY NOTICE: This piece was posted by Community Financial News and is owned by of Community Financial News. If you are reading this piece on another site, it was stolen and reposted in violation of U.S. and international copyright & trademark legislation. The legal version of this piece can be read at https://www.com-unik.info/2018/01/10/cranswick-plc-cwk-given-consensus-rating-of-hold-by-analysts.html.
About Cranswick
Cranswick plc is a supplier of food products. The Company operates through Foods segment, which is engaged in the manufacture and supply of food products to the United Kingdom grocery retailers, the food service sector and other food producers. The Company provides a range of pork, gourmet sausages, cooked meats, cooked poultry, charcuterie, hand-cured and air-dried bacon, gourmet pastry products and sandwiches through retail, food servicing and manufacturing channels.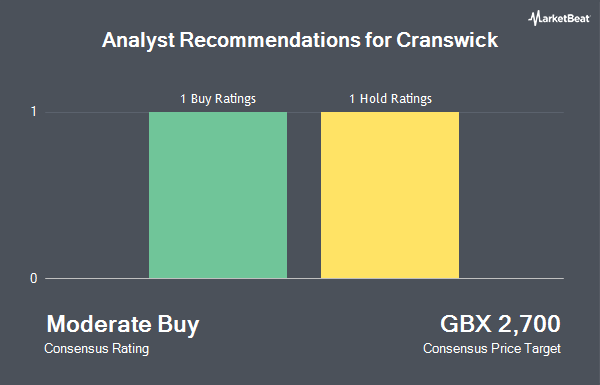 Receive News & Ratings for Cranswick Daily - Enter your email address below to receive a concise daily summary of the latest news and analysts' ratings for Cranswick and related companies with MarketBeat.com's FREE daily email newsletter.