Avon Rubber plc (LON:AVON) insider Petrus R. M. Vervaat bought 967 shares of the firm's stock in a transaction on Monday, January 8th. The shares were purchased at an average cost of GBX 1,200 ($16.27) per share, with a total value of £11,604 ($15,736.37).
Avon Rubber plc (LON:AVON) opened at GBX 1,225 ($16.61) on Wednesday. The company has a market capitalization of $380.04 and a price-to-earnings ratio of 1,750.00. Avon Rubber plc has a 1 year low of GBX 885 ($12.00) and a 1 year high of GBX 1,252.16 ($16.98).
The business also recently declared a dividend, which will be paid on Friday, March 16th. Stockholders of record on Thursday, February 15th will be given a GBX 8.21 ($0.11) dividend. This represents a dividend yield of 0.71%. This is a positive change from Avon Rubber's previous dividend of $4.11. The ex-dividend date is Thursday, February 15th.
A number of equities research analysts have weighed in on AVON shares. Peel Hunt lifted their target price on Avon Rubber from GBX 1,200 ($16.27) to GBX 1,300 ($17.63) and gave the company a "buy" rating in a research report on Wednesday, November 15th. Jefferies Group started coverage on Avon Rubber in a research report on Wednesday, November 8th. They set a "buy" rating and a GBX 1,230 ($16.68) target price for the company. Finally, N+1 Singer reaffirmed a "buy" rating and set a GBX 1,170 ($15.87) target price on shares of Avon Rubber in a research report on Wednesday, December 6th.
COPYRIGHT VIOLATION WARNING: This story was originally published by Community Financial News and is the property of of Community Financial News. If you are reading this story on another publication, it was stolen and republished in violation of U.S. and international copyright & trademark laws. The correct version of this story can be read at https://www.com-unik.info/2018/01/10/insider-buying-avon-rubber-plc-avon-insider-buys-967-shares-of-stock.html.
About Avon Rubber
Avon Rubber p.l.c. is engaged in the design, test and manufacturing specialist products from various sites. The Company operates in two segments: Protection & Defence, and Dairy. It operates out of Europe and the United States. Its Protection & Defence segment consists of a range of respiratory products.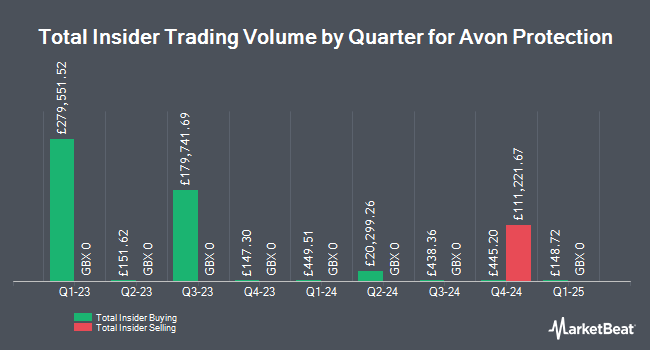 Receive News & Ratings for Avon Rubber Daily - Enter your email address below to receive a concise daily summary of the latest news and analysts' ratings for Avon Rubber and related companies with MarketBeat.com's FREE daily email newsletter.