Oramed Pharmaceuticals, Inc. (NASDAQ:ORMP) – Analysts at B. Riley upped their FY2018 EPS estimates for Oramed Pharmaceuticals in a report issued on Tuesday. B. Riley analyst A. D'silva now forecasts that the biotechnology company will post earnings per share of ($1.10) for the year, up from their prior estimate of ($1.13). B. Riley currently has a "Buy" rating and a $20.00 target price on the stock.
Oramed Pharmaceuticals (NASDAQ:ORMP) last posted its quarterly earnings results on Wednesday, November 29th. The biotechnology company reported ($0.20) EPS for the quarter. Oramed Pharmaceuticals had a negative net margin of 169.17% and a negative return on equity of 49.94%.
Several other research analysts have also commented on ORMP. HC Wainwright restated a "buy" rating and issued a $25.00 price target on shares of Oramed Pharmaceuticals in a report on Thursday, October 5th.
ValuEngine
lowered shares of Oramed Pharmaceuticals from a "hold" rating to a "sell" rating in a report on Tuesday, December 5th.
Oramed Pharmaceuticals (ORMP) traded up $0.02 during midday trading on Thursday, reaching $8.38. 16,984 shares of the company traded hands, compared to its average volume of 28,280. Oramed Pharmaceuticals has a 52-week low of $5.85 and a 52-week high of $11.34. The stock has a market capitalization of $120.14, a price-to-earnings ratio of -10.88 and a beta of 0.34.
Several institutional investors and hedge funds have recently bought and sold shares of the company. Wells Fargo & Company MN raised its stake in shares of Oramed Pharmaceuticals by 4.4% during the second quarter. Wells Fargo & Company MN now owns 14,725 shares of the biotechnology company's stock valued at $114,000 after purchasing an additional 625 shares during the period. Virtu KCG Holdings LLC purchased a new stake in shares of Oramed Pharmaceuticals during the second quarter valued at approximately $125,000. Finally, Susquehanna International Group LLP purchased a new stake in shares of Oramed Pharmaceuticals during the third quarter valued at approximately $185,000. Institutional investors own 1.92% of the company's stock.
ILLEGAL ACTIVITY NOTICE: "Oramed Pharmaceuticals, Inc. (ORMP) to Post FY2018 Earnings of ($1.10) Per Share, B. Riley Forecasts" was originally posted by Community Financial News and is the sole property of of Community Financial News. If you are viewing this piece of content on another website, it was stolen and republished in violation of U.S. and international trademark and copyright law. The original version of this piece of content can be viewed at https://www.com-unik.info/2018/01/20/oramed-pharmaceuticals-inc-ormp-to-post-fy2018-earnings-of-1-10-per-share-b-riley-forecasts.html.
Oramed Pharmaceuticals Company Profile
Oramed Pharmaceuticals Inc (Oramed) is engaged in the field of oral delivery solutions for drugs and vaccines presently delivered via injection. Oramed's flagship product, an orally ingestible insulin capsule in phase II clinical trials, is focused on the treatment of diabetes. The Company is developing orally ingestible protein oral delivery (POD) technology for the delivery of drugs presently administered by way of injection.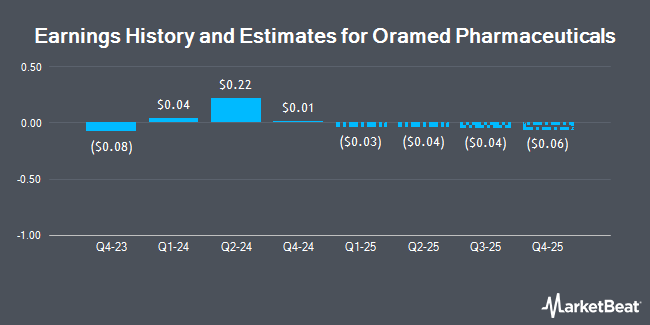 Receive News & Ratings for Oramed Pharmaceuticals Daily - Enter your email address below to receive a concise daily summary of the latest news and analysts' ratings for Oramed Pharmaceuticals and related companies with MarketBeat.com's FREE daily email newsletter.