Aqua Metals (NASDAQ:AQMS) is scheduled to be releasing its earnings data after the market closes on Monday, February 12th. Analysts expect Aqua Metals to post earnings of ($0.26) per share for the quarter.
Aqua Metals (NASDAQ:AQMS) last posted its quarterly earnings data on Thursday, November 9th. The business services provider reported ($0.31) EPS for the quarter, missing analysts' consensus estimates of ($0.27) by ($0.04). The company had revenue of $0.59 million during the quarter, compared to analyst estimates of $0.65 million. On average, analysts expect Aqua Metals to post $-1 EPS for the current fiscal year and $-1 EPS for the next fiscal year.
Shares of Aqua Metals (AQMS) opened at $1.62 on Friday. The company has a debt-to-equity ratio of 0.19, a quick ratio of 3.77 and a current ratio of 4.01. The company has a market capitalization of $42.71 and a price-to-earnings ratio of -1.27. Aqua Metals has a 52 week low of $1.42 and a 52 week high of $22.75.
An institutional investor recently raised its position in Aqua Metals stock. State Street Corp boosted its holdings in Aqua Metals Inc (NASDAQ:AQMS) by 16.2% during the second quarter, according to the company in its most recent filing with the Securities and Exchange Commission. The fund owned 208,859 shares of the business services provider's stock after buying an additional 29,104 shares during the period. State Street Corp owned 1.04% of Aqua Metals worth $2,622,000 at the end of the most recent reporting period. 29.69% of the stock is currently owned by hedge funds and other institutional investors.
A number of research firms recently commented on AQMS. HC Wainwright reaffirmed a "buy" rating on shares of Aqua Metals in a research note on Friday, November 10th. Oppenheimer reaffirmed a "buy" rating and set a $34.00 price objective on shares of Aqua Metals in a research note on Friday, November 10th. Finally, Zacks Investment Research lowered Aqua Metals from a "hold" rating to a "sell" rating in a research note on Wednesday, November 15th. Two research analysts have rated the stock with a sell rating and six have issued a buy rating to the company. The stock currently has an average rating of "Buy" and a consensus price target of $28.60.
COPYRIGHT VIOLATION WARNING: "Aqua Metals (AQMS) Set to Announce Quarterly Earnings on Monday" was reported by Community Financial News and is the property of of Community Financial News. If you are accessing this news story on another publication, it was illegally copied and reposted in violation of international trademark & copyright laws. The original version of this news story can be read at https://www.com-unik.info/2018/02/10/aqua-metals-aqms-set-to-announce-quarterly-earnings-on-monday.html.
Aqua Metals Company Profile
Aqua Metals, Inc is engaged in the business of recycling lead through a process that the Company developed and named AquaRefining. The Company's AquaRefining process focuses on providing for the recycling of lead acid batteries (LABs) and the production of lead. AquaRefining uses bio-degradable aqueous solvent and an ambient temperature electro-chemical process to produce lead.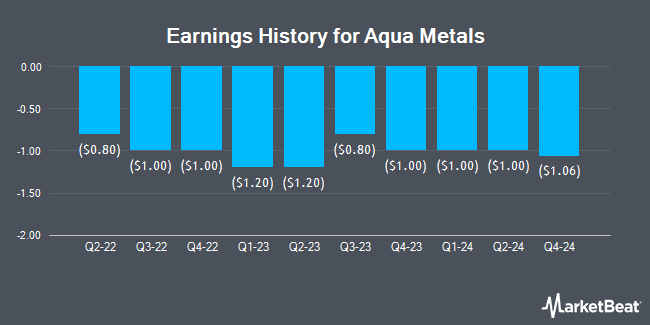 Receive News & Ratings for Aqua Metals Daily - Enter your email address below to receive a concise daily summary of the latest news and analysts' ratings for Aqua Metals and related companies with MarketBeat.com's FREE daily email newsletter.