CTS Co. (NYSE:CTS) – Research analysts at Zacks Investment Research boosted their FY2018 earnings per share (EPS) estimates for CTS in a report issued on Tuesday. Zacks Investment Research analyst I. Gilson now anticipates that the electronics maker will post earnings per share of $1.32 for the year, up from their previous estimate of $1.30. Zacks Investment Research also issued estimates for CTS's Q4 2018 earnings at $0.36 EPS, Q4 2019 earnings at $0.39 EPS, FY2019 earnings at $1.44 EPS and FY2020 earnings at $1.65 EPS.
CTS (NYSE:CTS) last posted its quarterly earnings data on Tuesday, February 6th. The electronics maker reported $0.39 earnings per share (EPS) for the quarter, beating the Thomson Reuters' consensus estimate of $0.30 by $0.09. The firm had revenue of $110.90 million for the quarter, compared to the consensus estimate of $106.82 million. CTS had a return on equity of 12.16% and a net margin of 3.42%. The company's quarterly revenue was up 9.2% compared to the same quarter last year. During the same quarter in the previous year, the business earned $0.29 EPS.
Separately,
ValuEngine
downgraded CTS from a "buy" rating to a "hold" rating in a report on Thursday, December 7th.
Shares of CTS (CTS) opened at $25.95 on Friday. The company has a quick ratio of 1.93, a current ratio of 2.28 and a debt-to-equity ratio of 0.22. The stock has a market capitalization of $862.95, a price-to-earnings ratio of 60.35 and a beta of 1.25. CTS has a 1-year low of $19.30 and a 1-year high of $28.45.
The company also recently disclosed a quarterly dividend, which will be paid on Friday, April 20th. Investors of record on Friday, March 16th will be issued a $0.04 dividend. The ex-dividend date is Thursday, March 15th. This represents a $0.16 annualized dividend and a dividend yield of 0.62%. CTS's dividend payout ratio is presently 37.21%.
A number of institutional investors and hedge funds have recently added to or reduced their stakes in CTS. Neuberger Berman Group LLC acquired a new position in CTS during the 3rd quarter worth $209,000. Teacher Retirement System of Texas acquired a new position in CTS during the 4th quarter worth $280,000. SG Americas Securities LLC acquired a new position in CTS during the 3rd quarter worth $387,000. Bessemer Group Inc. acquired a new position in CTS during the 4th quarter worth $533,000. Finally, First Trust Advisors LP grew its stake in CTS by 14.1% during the 4th quarter. First Trust Advisors LP now owns 29,611 shares of the electronics maker's stock worth $762,000 after purchasing an additional 3,660 shares in the last quarter. 93.85% of the stock is owned by hedge funds and other institutional investors.
TRADEMARK VIOLATION NOTICE: This story was first published by Community Financial News and is the property of of Community Financial News. If you are accessing this story on another publication, it was stolen and reposted in violation of international copyright & trademark laws. The correct version of this story can be viewed at https://www.com-unik.info/2018/02/10/research-analysts-offer-predictions-for-cts-co-s-fy2018-earnings-cts.html.
About CTS
CTS Corporation is a manufacturer of sensors, electronic components and actuators. The Company designs, manufactures and sells a line of sensors, electronic components and actuators primarily to original equipment manufacturers (OEMs) for the transportation, industrial, medical, information technology, defense and aerospace, and communications markets.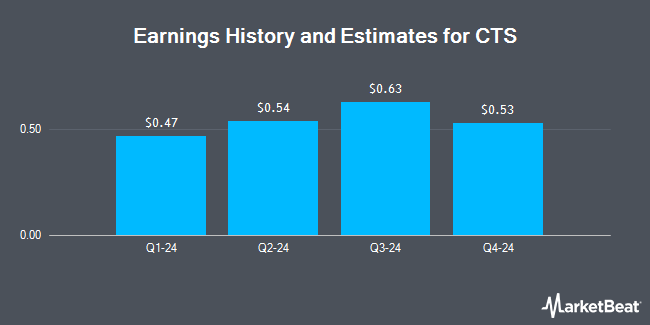 Receive News & Ratings for CTS Daily - Enter your email address below to receive a concise daily summary of the latest news and analysts' ratings for CTS and related companies with MarketBeat.com's FREE daily email newsletter.