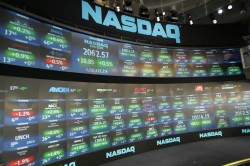 Delphi Technologies (NYSE:DLPH) will be announcing its earnings results before the market opens on Wednesday, February 21st. Analysts expect the company to announce earnings of $1.15 per share for the quarter.
Shares of Delphi Technologies (NYSE DLPH) opened at $50.87 on Monday. Delphi Technologies has a fifty-two week low of $38.00 and a fifty-two week high of $60.39.
The company also recently declared an annual dividend, which was paid on Wednesday, February 14th. Investors of record on Tuesday, February 6th were issued a dividend of $0.17 per share. The ex-dividend date of this dividend was Monday, February 5th.
Separately, Buckingham Research began coverage on Delphi Technologies in a report on Thursday, February 8th. They set a "neutral" rating and a $58.00 price target for the company.
In other news, Director Frank J. Dellaquila purchased 500 shares of the company's stock in a transaction that occurred on Friday, February 9th. The stock was acquired at an average cost of $86.50 per share, with a total value of $43,250.00. Following the acquisition, the director now owns 2,247 shares in the company, valued at approximately $194,365.50. The acquisition was disclosed in a document filed with the Securities & Exchange Commission, which is available through this hyperlink.
COPYRIGHT VIOLATION WARNING: This article was first posted by Community Financial News and is owned by of Community Financial News. If you are accessing this article on another publication, it was illegally stolen and reposted in violation of U.S. and international trademark and copyright laws. The correct version of this article can be viewed at https://www.com-unik.info/2018/02/19/delphi-technologies-dlph-to-release-quarterly-earnings-on-wednesday.html.
Delphi Technologies Company Profile
Delphi Technologies PLC is a develops, designs and manufactures powertrain technologies for original equipment manufacturers (OEMs). The Company's segments is Products & Service Solutions (PSS). PSS segment sells aftermarket products to independent aftermarket and original equipment service customers.
Receive News & Ratings for Delphi Technologies Daily - Enter your email address below to receive a concise daily summary of the latest news and analysts' ratings for Delphi Technologies and related companies with MarketBeat.com's FREE daily email newsletter.