Goldman Sachs BDC (NYSE:GSBD) is set to issue its quarterly earnings data after the market closes on Thursday, February 22nd. Analysts expect the company to announce earnings of $0.47 per share for the quarter.
Shares of Goldman Sachs BDC (NYSE:GSBD) opened at $20.95 on Tuesday. Goldman Sachs BDC has a 1-year low of $20.11 and a 1-year high of $25.60. The company has a current ratio of 0.83, a quick ratio of 0.83 and a debt-to-equity ratio of 0.61. The stock has a market cap of $840.74, a PE ratio of 9.98, a P/E/G ratio of 2.15 and a beta of 0.68.
GSBD has been the subject of a number of research analyst reports. BidaskClub downgraded shares of Goldman Sachs BDC from a "hold" rating to a "sell" rating in a report on Saturday, October 28th. National Securities restated a "neutral" rating and set a $22.00 price objective on shares of Goldman Sachs BDC in a report on Monday, November 6th. TheStreet upgraded shares of Goldman Sachs BDC from a "c" rating to a "b-" rating in a report on Thursday, December 21st. Finally, Zacks Investment Research downgraded shares of Goldman Sachs BDC from a "hold" rating to a "strong sell" rating in a report on Wednesday, January 3rd. One analyst has rated the stock with a sell rating, two have assigned a hold rating and three have assigned a buy rating to the stock. The company has an average rating of "Hold" and an average price target of $22.80.
In related news, Director Jaime Ardila acquired 8,108 shares of the firm's stock in a transaction that occurred on Friday, December 1st. The stock was acquired at an average price of $21.84 per share, for a total transaction of $177,078.72. Following the completion of the acquisition, the director now owns 12,791 shares of the company's stock, valued at approximately $279,355.44. The transaction was disclosed in a filing with the Securities & Exchange Commission, which can be accessed through
this hyperlink
. Company insiders own 0.32% of the company's stock.
TRADEMARK VIOLATION NOTICE: "Goldman Sachs BDC (GSBD) to Release Quarterly Earnings on Thursday" was originally reported by Community Financial News and is the property of of Community Financial News. If you are viewing this report on another website, it was copied illegally and republished in violation of international trademark and copyright laws. The legal version of this report can be read at https://www.com-unik.info/2018/02/20/goldman-sachs-bdc-gsbd-to-release-quarterly-earnings-on-thursday.html.
About Goldman Sachs BDC
Goldman Sachs BDC, Inc is a closed-end management investment company. The Company is a specialty finance company, which is focused on lending to middle-market companies. The Company's investment objective is to generate current income and, to a lesser extent, capital appreciation primarily through direct originations of secured debt, including first lien, including first lien, unitranche, including last out portions of such loans, and second lien debt, and unsecured debt, including mezzanine debt, as well as through select equity investments.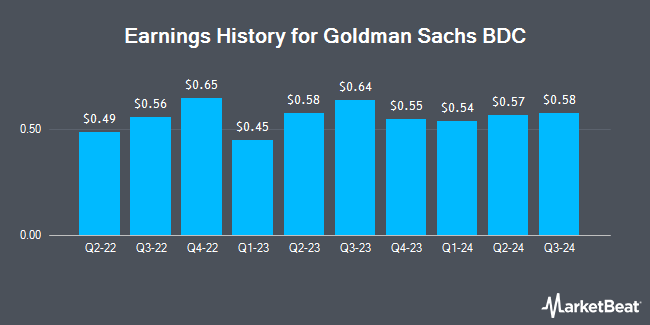 Receive News & Ratings for Goldman Sachs BDC Daily - Enter your email address below to receive a concise daily summary of the latest news and analysts' ratings for Goldman Sachs BDC and related companies with MarketBeat.com's FREE daily email newsletter.