SunOpta (TSE:SOY) (NASDAQ:STKL) is scheduled to announce its earnings results before the market opens on Tuesday, February 27th. Analysts expect the company to announce earnings of C($0.09) per share for the quarter.
Shares of SunOpta (TSE:SOY) opened at C$8.92 on Tuesday. SunOpta has a fifty-two week low of C$8.05 and a fifty-two week high of C$13.53. The stock has a market capitalization of $772.69, a price-to-earnings ratio of -10.75 and a beta of 0.96.
In other SunOpta news, insider Oaktree Capital Management, L. acquired 3,055,460 shares of the firm's stock in a transaction dated Friday, December 15th. The shares were acquired at an average price of C$7.50 per share, for a total transaction of C$22,915,950.00.
COPYRIGHT VIOLATION NOTICE: This story was first posted by Community Financial News and is owned by of Community Financial News. If you are viewing this story on another site, it was stolen and republished in violation of U.S. and international trademark and copyright legislation. The original version of this story can be read at https://www.com-unik.info/2018/02/20/sunopta-soy-to-release-earnings-on-tuesday.html.
About SunOpta
Sunopta Inc is a Canada-based company, which operates businesses focused on a healthy products portfolio. It operates through the following segments: Global Ingredients and Consumer Products. The Global Ingredients segment aggregates its North American and international raw material sourcing and supply operating segments focused on the procurement, processing and sale of specialty and organic grains, seeds, fruits, grain- and cocoa-based ingredients, and other commodities.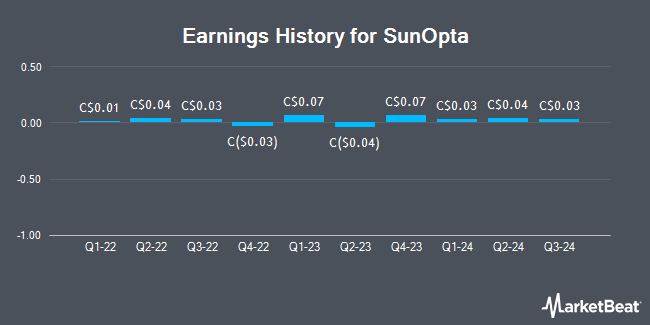 Receive News & Ratings for SunOpta Daily - Enter your email address below to receive a concise daily summary of the latest news and analysts' ratings for SunOpta and related companies with MarketBeat.com's FREE daily email newsletter.