Cobham (LON:COB) had its price target raised by JPMorgan Chase & Co. from GBX 135 ($1.75) to GBX 140 ($1.81) in a research report report published on Monday. The brokerage currently has a neutral rating on the stock.
COB has been the topic of a number of other reports. UBS Group reissued a buy rating and set a GBX 145 ($1.88) target price (down from GBX 150 ($1.94)) on shares of Cobham in a report on Friday, July 27th. AlphaValue cut shares of Cobham to an add rating in a report on Thursday, May 31st. Kepler Capital Markets increased their target price on shares of Cobham from GBX 112 ($1.45) to GBX 117 ($1.51) and gave the stock a reduce rating in a report on Thursday, July 5th. Liberum Capital cut shares of Cobham to a sell rating in a report on Friday, July 27th. Finally, Citigroup dropped their price objective on shares of Cobham from GBX 143 ($1.85) to GBX 135 ($1.75) and set a neutral rating on the stock in a report on Friday, June 15th. Four investment analysts have rated the stock with a sell rating, five have given a hold rating and two have given a buy rating to the company. The stock presently has a consensus rating of Hold and an average price target of GBX 129.20 ($1.67).
Shares of LON:COB opened at GBX 128.50 ($1.66) on Monday. Cobham has a 1-year low of GBX 107.67 ($1.39) and a 1-year high of GBX 150.30 ($1.95).
In related news, insider David Mellors sold 122,814 shares of the stock in a transaction dated Thursday, June 14th. The shares were sold at an average price of GBX 126 ($1.63), for a total value of £154,745.64 ($200,317.98). Also, insider Norton Schwartz acquired 5,000 shares of the company's stock in a transaction that occurred on Friday, June 22nd. The stock was purchased at an average cost of GBX 130 ($1.68) per share, for a total transaction of £6,500 ($8,414.24). In the last ninety days, insiders purchased 5,166 shares of company stock worth $669,989.
About Cobham
Cobham plc provides a range of technologies and services to commercial, defense, aerospace, space, and security markets in the United Kingdom, the United States, other European countries, Australia, Asia, and internationally. The company operates in four segments: Communications and Connectivity, Mission Systems, Advanced Electronic Solutions, and Aviation Services.
See Also: Book Value Of Equity Per Share – BVPS Explained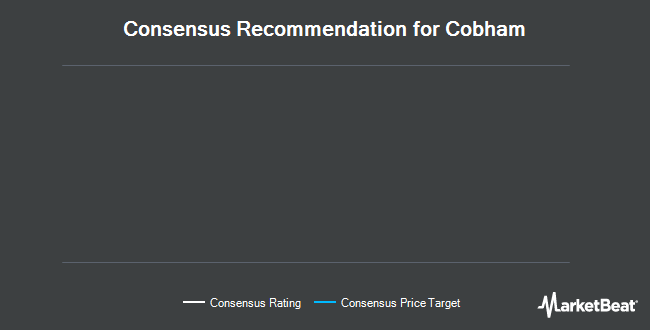 Receive News & Ratings for Cobham Daily - Enter your email address below to receive a concise daily summary of the latest news and analysts' ratings for Cobham and related companies with MarketBeat.com's FREE daily email newsletter.