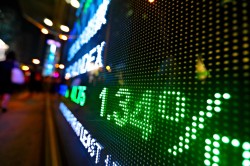 Falcon Minerals (NASDAQ:FLMN) announced its earnings results on Friday. The company reported $0.03 EPS for the quarter, missing the consensus estimate of $0.17 by ($0.14), Zacks reports. The firm had revenue of $24.28 million during the quarter, compared to analyst estimates of $29.70 million.
NASDAQ:FLMN traded down $0.25 during trading hours on Friday, hitting $9.00. 417,309 shares of the company's stock traded hands, compared to its average volume of 141,763. Falcon Minerals has a twelve month low of $7.40 and a twelve month high of $11.70.
The firm also recently declared a special dividend, which will be paid on Thursday, November 15th. Investors of record on Thursday, November 8th will be given a dividend of $0.095 per share. The ex-dividend date is Wednesday, November 7th.
FLMN has been the topic of several recent analyst reports. Northland Securities initiated coverage on Falcon Minerals in a research report on Wednesday, September 26th. They set an "outperform" rating and a $13.00 price target on the stock.
ValuEngine
lowered Falcon Minerals from a "hold" rating to a "sell" rating in a research report on Friday, November 2nd.
In related news, major shareholder Jana Partners Llc sold 944,703 shares of the company's stock in a transaction on Monday, September 24th. The stock was sold at an average price of $11.40, for a total transaction of $10,769,614.20. The transaction was disclosed in a document filed with the SEC, which can be accessed through this hyperlink. Also, CFO Jeffrey F. Brotman purchased 25,000 shares of the company's stock in a transaction that occurred on Thursday, August 23rd. The shares were acquired at an average cost of $10.00 per share, for a total transaction of $250,000.00. The disclosure for this purchase can be found here. Insiders have purchased 805,000 shares of company stock worth $8,050,000 over the last three months.
TRADEMARK VIOLATION NOTICE: This story was first reported by Community Financial News and is the property of of Community Financial News. If you are accessing this story on another publication, it was illegally copied and reposted in violation of U.S. & international trademark and copyright laws. The original version of this story can be viewed at https://www.com-unik.info/2018/11/10/falcon-minerals-flmn-releases-quarterly-earnings-results-misses-expectations-by-0-14-eps.html.
About Falcon Minerals
Falcon Minerals Corporation acquires, owns, maintains, and manages mineral interests, mineral royalties, and overriding royalties relating to onshore unconventional shale oil and natural gas properties in the United States; and any associated interests and royalties relating to conventional oil and natural gas properties.
Recommended Story: Find a Trading Strategy That Works

Receive News & Ratings for Falcon Minerals Daily - Enter your email address below to receive a concise daily summary of the latest news and analysts' ratings for Falcon Minerals and related companies with MarketBeat.com's FREE daily email newsletter.