WideOpenWest (NYSE:WOW) released its earnings results on Thursday. The company reported $0.37 EPS for the quarter, topping the Zacks' consensus estimate of $0.23 by $0.14, Zacks reports. The company had revenue of $291.60 million for the quarter, compared to analysts' expectations of $292.65 million. WideOpenWest had a negative return on equity of 5.46% and a negative net margin of 8.17%. The business's revenue for the quarter was down 2.1% compared to the same quarter last year. During the same period in the previous year, the business posted $0.37 EPS.
WOW traded up $0.50 during trading hours on Friday, hitting $10.88. The stock had a trading volume of 691,017 shares, compared to its average volume of 226,317. WideOpenWest has a 1 year low of $6.03 and a 1 year high of $12.91. The firm has a market cap of $862.10 million, a P/E ratio of 15.77 and a beta of 1.73.
An institutional investor recently raised its position in WideOpenWest stock. Bank of New York Mellon Corp raised its stake in shares of WideOpenWest Inc (NYSE:WOW) by 12.2% in the second quarter, according to its most recent filing with the Securities & Exchange Commission. The institutional investor owned 325,638 shares of the company's stock after buying an additional 35,410 shares during the quarter. Bank of New York Mellon Corp owned about 0.39% of WideOpenWest worth $3,146,000 at the end of the most recent reporting period. 61.38% of the stock is currently owned by institutional investors and hedge funds.
A number of equities research analysts have recently commented on WOW shares. Credit Suisse Group lifted their target price on WideOpenWest from $10.50 to $11.50 and gave the stock a "neutral" rating in a research note on Friday, August 10th. B. Riley set a $14.00 price objective on WideOpenWest and gave the stock a "buy" rating in a report on Sunday, August 12th.
Zacks Investment Research
raised WideOpenWest from a "hold" rating to a "buy" rating and set a $13.00 price objective for the company in a report on Wednesday, August 15th. Raymond James reissued a "buy" rating and issued a $14.00 price objective on shares of WideOpenWest in a report on Monday, August 20th. Finally, UBS Group lifted their price objective on WideOpenWest from $10.00 to $12.00 and gave the stock a "neutral" rating in a report on Tuesday, October 2nd. Five research analysts have rated the stock with a hold rating and three have given a buy rating to the company's stock. The company currently has an average rating of "Hold" and a consensus price target of $14.21.
ILLEGAL ACTIVITY NOTICE: "WideOpenWest (WOW) Posts Earnings Results, Beats Expectations By $0.14 EPS" was published by Community Financial News and is owned by of Community Financial News. If you are viewing this news story on another site, it was illegally copied and republished in violation of United States & international trademark & copyright laws. The original version of this news story can be viewed at https://www.com-unik.info/2018/11/10/wideopenwest-wow-posts-earnings-results-beats-expectations-by-0-14-eps.html.
WideOpenWest Company Profile
WideOpenWest, Inc operates as a cable operator in the United States. It provides high-speed data, cable television, voice over IP-based telephony, and business-class services to residential and business services customers. Its video services include basic cable services that comprise local broadcast television and local community programming; digital cable services; and ultra video products, as well as provides commercial-free movies, sports, and other special event entertainment programs.
Recommended Story: Dow Jones Industrial Average (DJIA)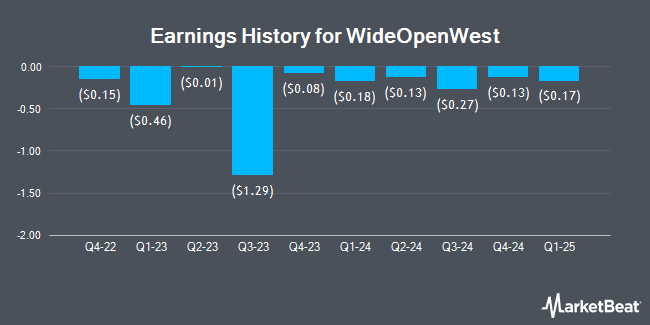 Receive News & Ratings for WideOpenWest Daily - Enter your email address below to receive a concise daily summary of the latest news and analysts' ratings for WideOpenWest and related companies with MarketBeat.com's FREE daily email newsletter.