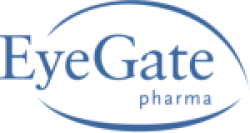 HC Wainwright set a $6.00 price objective on Eyegate Pharmaceuticals (NASDAQ:EYEG) in a research note published on Wednesday, The Fly reports. The brokerage currently has a buy rating on the specialty pharmaceutical company's stock.
EYEG stock opened at $0.48 on Wednesday. Eyegate Pharmaceuticals has a 1 year low of $0.28 and a 1 year high of $1.38.
Eyegate Pharmaceuticals (NASDAQ:EYEG) last released its earnings results on Tuesday, November 13th. The specialty pharmaceutical company reported ($0.07) earnings per share (EPS) for the quarter, topping the Zacks' consensus estimate of ($0.08) by $0.01. The firm had revenue of $0.32 million for the quarter, compared to the consensus estimate of $0.19 million. As a group, sell-side analysts predict that Eyegate Pharmaceuticals will post -0.31 earnings per share for the current fiscal year.
In other news, major shareholder Armistice Capital Master Fund bought 360,000 shares of the stock in a transaction on Friday, November 16th. The stock was purchased at an average price of $0.45 per share, for a total transaction of $162,000.00. The transaction was disclosed in a filing with the SEC, which is available at
this link
. 43.90% of the stock is currently owned by corporate insiders.
Eyegate Pharmaceuticals Company Profile
EyeGate Pharmaceuticals, Inc, a clinical-stage specialty pharmaceutical company, focuses on developing and commercializing products for treating diseases and disorders of the eye. Its proprietary platform technologies consist of crosslinked thiolated carboxymethyl hyaluronic acid (CMHA-S) and iontophoresis drug delivery system.
Read More: What factors cause inflation to rise?

Receive News & Ratings for Eyegate Pharmaceuticals Daily - Enter your email address below to receive a concise daily summary of the latest news and analysts' ratings for Eyegate Pharmaceuticals and related companies with MarketBeat.com's FREE daily email newsletter.