Tourmaline Oil Corp (TSE:TOU) Director Jill Terilee Angevine bought 4,000 shares of Tourmaline Oil stock in a transaction that occurred on Friday, November 30th. The shares were bought at an average cost of C$18.40 per share, with a total value of C$73,600.00.
TSE TOU traded up C$0.10 during trading on Friday, reaching C$18.40. The company's stock had a trading volume of 1,261,600 shares, compared to its average volume of 855,543. The company has a debt-to-equity ratio of 18.20, a current ratio of 0.36 and a quick ratio of 0.32. Tourmaline Oil Corp has a 12 month low of C$17.73 and a 12 month high of C$26.19.
Several analysts recently commented on TOU shares. BMO Capital Markets reduced their target price on shares of Tourmaline Oil from C$28.00 to C$26.00 in a report on Tuesday, October 9th. Raymond James reduced their target price on shares of Tourmaline Oil from C$35.00 to C$29.50 in a report on Friday, October 5th. CIBC reduced their target price on shares of Tourmaline Oil from C$30.00 to C$27.50 in a report on Thursday, November 22nd. Finally, TD Securities reaffirmed a "buy" rating and set a C$27.00 target price on shares of Tourmaline Oil in a report on Thursday, November 8th. One investment analyst has rated the stock with a hold rating and four have assigned a buy rating to the company. The company has a consensus rating of "Buy" and an average price target of C$29.00.
TRADEMARK VIOLATION NOTICE: This news story was reported by Community Financial News and is the property of of Community Financial News. If you are reading this news story on another publication, it was illegally stolen and republished in violation of United States & international copyright & trademark law. The correct version of this news story can be viewed at https://www.com-unik.info/2018/12/01/insider-buying-tourmaline-oil-corp-tou-director-buys-4000-shares-of-stock.html.
About Tourmaline Oil
Tourmaline Oil Corp., together with its subsidiaries, engages in the acquisition, exploration, development, and production of petroleum and natural gas properties in the Western Canadian Sedimentary Basin. It holds interests in properties located in the Peace River High, Alberta Deep Basin, and NEBC Montney areas.
Read More: How do investors use RSI to grade stocks?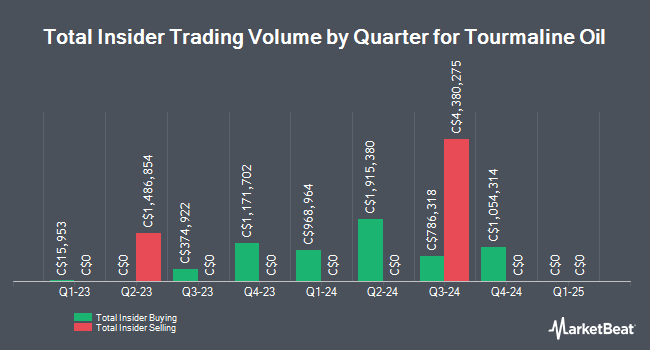 Receive News & Ratings for Tourmaline Oil Daily - Enter your email address below to receive a concise daily summary of the latest news and analysts' ratings for Tourmaline Oil and related companies with MarketBeat.com's FREE daily email newsletter.