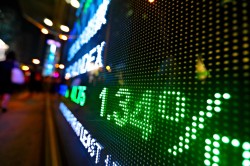 UBS Group upgraded shares of Caribbean Utilities (TSE:CUP.U) from a sell rating to a neutral rating in a research report report published on Thursday, www.baystreet.ca reports. UBS Group currently has C$13.00 price target on the stock, up from their previous price target of C$12.00.
TSE CUP.U opened at C$12.25 on Thursday.
Caribbean Utilities Company Profile
Caribbean Utilities Company, Ltd. is engaged in generating, transmitting and distributing electricity in its license area of Grand Cayman, Cayman Islands. The Company uses diesel generation to produce electricity for Grand Cayman. Its power system consists of 20 generating units, including 17 diesel engines, two gas turbines and one steam turbine with a combined capacity of approximately 160 megawatts (MW).
See Also: Stock Symbols Definition, Examples, Lookup
Receive News & Ratings for Caribbean Utilities Daily - Enter your email address below to receive a concise daily summary of the latest news and analysts' ratings for Caribbean Utilities and related companies with MarketBeat.com's FREE daily email newsletter.