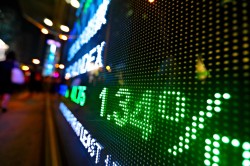 Corvus Gold (TSE:KOR)'s stock had its "speculative buy" rating reiterated by investment analysts at Canaccord Genuity in a research note issued to investors on Friday. They currently have a C$3.00 price target on the stock. Canaccord Genuity's price objective points to a potential upside of 15.83% from the stock's previous close.
Separately, Fundamental Research raised their target price on shares of Corvus Gold from C$3.18 to C$3.85 and gave the stock a "top pick" rating in a research report on Thursday, November 8th.
KOR opened at C$2.59 on Friday. Corvus Gold has a 1 year low of C$1.39 and a 1 year high of C$3.39.
Corvus Gold (TSE:KOR) last released its earnings results on Thursday, October 11th. The company reported C($0.02) earnings per share (EPS) for the quarter, hitting the Thomson Reuters' consensus estimate of C($0.02). On average, equities research analysts expect that Corvus Gold will post -0.0799999903030315 EPS for the current year.
In related news, Director Edward William Yarrow sold 125,000 shares of the firm's stock in a transaction that occurred on Thursday, November 15th. The shares were sold at an average price of C$2.00, for a total value of C$250,000.00. Also, insider Carl Brechtel sold 500,000 shares of the firm's stock in a transaction that occurred on Thursday, November 15th. The stock was sold at an average price of C$2.02, for a total transaction of C$1,010,000.00.
Corvus Gold Company Profile
Corvus Gold Inc acquires, explores, and develops mineral properties primarily in the United States. Its principal mineral property is the North Bullfrog Project, a gold-silver mining project that consists of patented and unpatented mining claims covering an area of approximately 7,223 hectares located in northwestern Nye County, Nevada.
Recommended Story: How is the LIBOR rate calculated?
Receive News & Ratings for Corvus Gold Daily - Enter your email address below to receive a concise daily summary of the latest news and analysts' ratings for Corvus Gold and related companies with MarketBeat.com's FREE daily email newsletter.