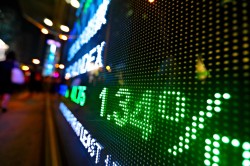 Longfellow Investment Management Co. LLC decreased its stake in Modern Media Acquisition Corp (NASDAQ:MMDMU) by 13.0% in the 3rd quarter, according to the company in its most recent disclosure with the Securities and Exchange Commission. The firm owned 99,480 shares of the company's stock after selling 14,870 shares during the period. Longfellow Investment Management Co. LLC's holdings in Modern Media Acquisition were worth $1,079,000 as of its most recent filing with the Securities and Exchange Commission.
Separately, Context Partners Fund L.P. acquired a new stake in shares of Modern Media Acquisition in the third quarter valued at about $434,000.
Shares of MMDMU stock opened at $10.75 on Monday. Modern Media Acquisition Corp has a 1-year low of $10.38 and a 1-year high of $11.00.
WARNING: This story was originally published by Community Financial News and is owned by of Community Financial News. If you are accessing this story on another website, it was stolen and republished in violation of United States and international copyright and trademark laws. The correct version of this story can be viewed at https://www.com-unik.info/2018/12/03/longfellow-investment-management-co-llc-sells-14870-shares-of-modern-media-acquisition-corp-mmdmu.html.
Modern Media Acquisition Company Profile
Modern Media Acquisition Corp. is a blank check company. The Company is formed for the purpose of effecting a merger, capital stock exchange, asset acquisition, stock purchase, reorganization, recapitalization or similar business combination with one or more businesses. The Company may pursue its initial business combination in any business, industry or geographic location, the Company intends to focus on opportunities to capitalize on the ability of its management team to identify, acquire and operate a business in the media, entertainment or marketing services industries.
Featured Article: Asset Allocation
Receive News & Ratings for Modern Media Acquisition Daily - Enter your email address below to receive a concise daily summary of the latest news and analysts' ratings for Modern Media Acquisition and related companies with MarketBeat.com's FREE daily email newsletter.