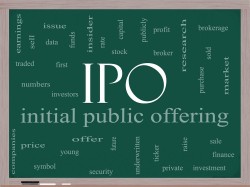 Moderna (MRNA) expects to raise $499 million in an IPO on Friday, December 7th, IPO Scoop reports. The company will issue 21,700,000 shares at a price of $22.00-$24.00 per share.
In the last 12 months, Moderna generated $191.6 million in revenue and had a net loss of $299.2 million. The company has a market-cap of $7.5 billion.
Morgan Stanley, Goldman Sachs and J.P. Morgan acted as the underwriters for the IPO and BofA Merrill Lynch, Barclays, Piper Jaffray, Bryan, Garnier, Oddo BHF, Oppenheimer, Needham and Chardan were co-managers.
Moderna provided the following description of their company for its IPO: " Messenger RNA, or mRNA, transfers the information stored in our genes to the cellular machinery that makes all the proteins required for life. Our genes are stored as sequences of DNA which contain the instructions to make specific proteins. DNA serves as a hard drive, safely storing these instructions in the nucleus until they are needed by the cell. We see mRNA functioning as the "software of life." Every cell uses mRNA to provide real time instructions to make the proteins necessary to drive all aspects of biology, including in human health and disease. ".
Moderna was founded in 2009 and has 680 employees. The company is located at 200 Technology Square Cambridge, MA 02139, US and can be reached via phone at (617) 714-6500 or on the web at http://www.modernatx.com.
Receive News & Ratings for Moderna Daily - Enter your email address below to receive a concise daily summary of the latest news and analysts' ratings for Moderna and related companies with MarketBeat.com's FREE daily email newsletter.