PTC Inc (NASDAQ:PTC) Director Robert Schechter sold 5,000 shares of PTC stock in a transaction on Thursday, November 29th. The shares were sold at an average price of $88.14, for a total value of $440,700.00. Following the completion of the transaction, the director now owns 66,007 shares in the company, valued at approximately $5,817,856.98. The sale was disclosed in a document filed with the Securities & Exchange Commission, which is available at this hyperlink.
NASDAQ:PTC opened at $86.49 on Monday. The company has a debt-to-equity ratio of 0.74, a quick ratio of 0.86 and a current ratio of 0.86. PTC Inc has a one year low of $59.40 and a one year high of $107.44. The stock has a market capitalization of $10.26 billion, a P/E ratio of 96.10, a price-to-earnings-growth ratio of 2.40 and a beta of 1.54.
PTC (NASDAQ:PTC) last released its quarterly earnings results on Wednesday, October 24th. The technology company reported $0.45 EPS for the quarter, topping the Thomson Reuters' consensus estimate of $0.44 by $0.01. PTC had a return on equity of 11.97% and a net margin of 4.19%. The business had revenue of $312.52 million for the quarter, compared to analysts' expectations of $322.00 million. During the same quarter in the previous year, the firm posted $0.34 earnings per share. The company's revenue was up 2.0% compared to the same quarter last year. As a group, equities research analysts predict that PTC Inc will post 1.11 earnings per share for the current year.
Several large investors have recently added to or reduced their stakes in PTC. Honkamp Krueger Financial Services Inc. acquired a new position in shares of PTC in the third quarter worth about $116,000. Fort L.P. acquired a new position in shares of PTC in the second quarter worth about $122,000. Qube Research & Technologies Ltd acquired a new position in shares of PTC in the second quarter worth about $134,000. Almanack Investment Partners LLC. acquired a new position in shares of PTC in the second quarter worth about $150,000. Finally, Gilder Gagnon Howe & Co. LLC acquired a new position in shares of PTC in the second quarter worth about $186,000. Institutional investors and hedge funds own 92.65% of the company's stock.
PTC has been the topic of a number of recent research reports. BidaskClub upgraded PTC from a "buy" rating to a "strong-buy" rating in a research note on Friday, September 14th. Guggenheim initiated coverage on PTC in a research note on Tuesday, August 7th. They set a "buy" rating and a $115.00 price objective on the stock. JPMorgan Chase & Co. reduced their price objective on PTC to $96.00 in a research note on Friday, October 26th. Finally, Cowen set a $105.00 price objective on PTC and gave the stock a "buy" rating in a research note on Sunday, October 28th. Six research analysts have rated the stock with a hold rating, eleven have given a buy rating and one has given a strong buy rating to the company's stock. PTC presently has an average rating of "Buy" and an average target price of $98.63.
WARNING: This report was first reported by Community Financial News and is owned by of Community Financial News. If you are accessing this report on another website, it was stolen and republished in violation of United States & international trademark and copyright legislation. The legal version of this report can be viewed at https://www.com-unik.info/2018/12/03/ptc-inc-ptc-director-sells-440700-00-in-stock.html.
PTC Company Profile
PTC Inc develops and delivers software products and solutions worldwide. It operates through three segments: IoT Group, Solutions Group, and Professional Services. It offers ThingWorx, an industrial innovation platform to develop and deploy industrial Internet of Things (IoT) applications and augmented reality (AR) experiences; and KEPServerEX solution to provide communications connectivity for industrial automation environments to connect, manage, monitor, and control disparate devices and software applications.
Featured Article: Market Capitalization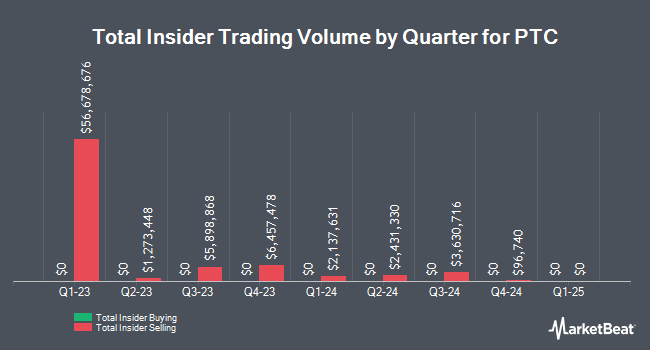 Receive News & Ratings for PTC Daily - Enter your email address below to receive a concise daily summary of the latest news and analysts' ratings for PTC and related companies with MarketBeat.com's FREE daily email newsletter.