Zacks Investment Research upgraded shares of Sirius XM (NASDAQ:SIRI) from a hold rating to a buy rating in a report issued on Friday morning. Zacks Investment Research currently has $7.00 target price on the stock.
According to Zacks, "Sirius XM's self-pay subscriber base and new subscriber base are witnessing growth due to strong content portfolio. Additionally, Sirius XM's partnership with Amazon to provide free access to a few of its subscription packages for existing Echo holders is expected to further boost its subscriber base and their engagement levels. Post Pandora's acquisition, Sirius XM's 36 million subscribers across North America and Pandora's 71.4 million monthly active users (MAUs) together will lead to the creation of the world's largest audio entertainment company. Moreover, the raised full-year guidance for self-pay subscriber additions, revenues and adjusted EBITDA bodes well. Notably, shares have outperformed the industry on a year-to-date basis. However, increasing royalty related expense is expected to keep margins under pressure. Slowdown in auto sales is also a concern."
A number of other equities research analysts have also recently weighed in on SIRI. Pivotal Research reaffirmed a hold rating and set a $7.00 price target on shares of Sirius XM in a report on Wednesday, October 24th. ValuEngine cut Sirius XM from a buy rating to a hold rating in a report on Monday, September 24th. BidaskClub raised Sirius XM from a sell rating to a hold rating in a report on Friday, November 2nd. Morgan Stanley raised their price target on Sirius XM from $6.00 to $6.20 and gave the company an underweight rating in a report on Monday, August 6th. Finally, Credit Suisse Group reaffirmed a neutral rating and set a $7.50 price target (down from $8.50) on shares of Sirius XM in a report on Tuesday, September 25th. Four research analysts have rated the stock with a sell rating, eight have given a hold rating and five have issued a buy rating to the company's stock. The company has a consensus rating of Hold and an average target price of $6.85.
SIRI stock
opened at $6.23 on Friday. Sirius XM has a fifty-two week low of $5.17 and a fifty-two week high of $7.70. The firm has a market cap of $27.98 billion, a P/E ratio of 31.15, a price-to-earnings-growth ratio of 1.61 and a beta of 1.04.
Sirius XM (NASDAQ:SIRI) last released its quarterly earnings results on Wednesday, October 24th. The company reported $0.07 earnings per share for the quarter, beating the Zacks' consensus estimate of $0.06 by $0.01. Sirius XM had a negative return on equity of 78.49% and a net margin of 15.64%. The firm had revenue of $1.47 billion during the quarter, compared to analysts' expectations of $1.46 billion. During the same period last year, the firm posted $0.06 EPS. The business's revenue was up 6.4% on a year-over-year basis. Equities analysts anticipate that Sirius XM will post 0.26 earnings per share for the current fiscal year.
The company also recently announced a quarterly dividend, which was paid on Friday, November 30th. Stockholders of record on Friday, November 9th were paid a $0.0121 dividend. This is a boost from Sirius XM's previous quarterly dividend of $0.01. This represents a $0.05 annualized dividend and a dividend yield of 0.78%. The ex-dividend date was Thursday, November 8th. Sirius XM's dividend payout ratio (DPR) is 25.00%.
Hedge funds and other institutional investors have recently added to or reduced their stakes in the company. BTR Capital Management Inc. acquired a new stake in shares of Sirius XM in the 3rd quarter valued at $104,000. Burney Co. acquired a new stake in shares of Sirius XM in the 2nd quarter valued at $108,000. OppenheimerFunds Inc. acquired a new stake in shares of Sirius XM in the 2nd quarter valued at $109,000. Verition Fund Management LLC acquired a new stake in shares of Sirius XM in the 2nd quarter valued at $111,000. Finally, Fort L.P. acquired a new stake in shares of Sirius XM in the 2nd quarter valued at $116,000. 17.91% of the stock is owned by institutional investors.
About Sirius XM
Sirius XM Holdings Inc provides satellite radio services in the United States. The company broadcasts music plus sports, entertainment, comedy, talk, news, traffic, and weather programs, including various music genres ranging from rock, pop and hip-hop to country, dance, jazz, Latin, and classical; live play-by-play sports from principal leagues and colleges; multitude of talk and entertainment channels for various audiences; national, international, and financial news; and limited run channels.
Featured Article: The benefits and drawbacks of dollar cost averaging
Get a free copy of the Zacks research report on Sirius XM (SIRI)
For more information about research offerings from Zacks Investment Research, visit Zacks.com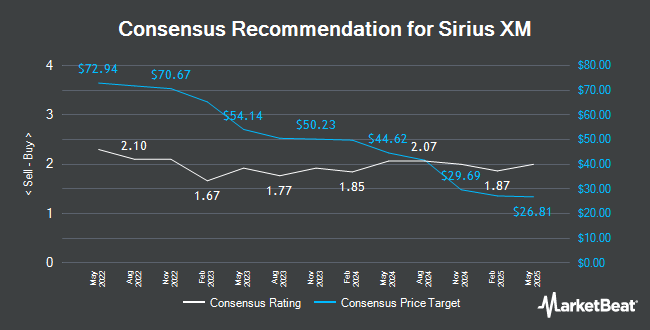 Receive News & Ratings for Sirius XM Daily - Enter your email address below to receive a concise daily summary of the latest news and analysts' ratings for Sirius XM and related companies with MarketBeat.com's FREE daily email newsletter.