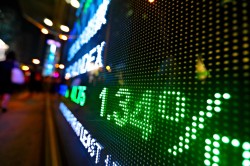 Barclays assumed coverage on shares of Hellofresh (OTCMKTS:HLFFF) in a research report report published on Monday morning, The Fly reports. The brokerage issued an overweight rating on the stock.
Shares of HLFFF stock opened at $10.02 on Monday. Hellofresh has a fifty-two week low of $9.85 and a fifty-two week high of $16.95.
About Hellofresh
HelloFresh SE delivers meal kit solutions to prepare home-cooked meals each week using its recipes. It operates in the United States, the United Kingdom, Germany, the Netherlands, Belgium, Luxembourg, Australia, Austria, Switzerland, and Canada. The company operates under the HelloFresh brand. HelloFresh SE was founded in 2011 and is headquartered in Berlin, Germany.
Featured Article: How a Put Option Works

Receive News & Ratings for Hellofresh Daily - Enter your email address below to receive a concise daily summary of the latest news and analysts' ratings for Hellofresh and related companies with MarketBeat.com's FREE daily email newsletter.