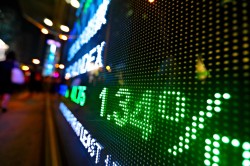 Metcash (OTCMKTS:MHTLY) was downgraded by equities researchers at Macquarie from a "neutral" rating to an "underperform" rating in a note issued to investors on Tuesday, The Fly reports.
Separately, Credit Suisse Group upgraded Metcash from an "underperform" rating to a "neutral" rating in a report on Monday.
OTCMKTS MHTLY opened at $12.23 on Tuesday. Metcash has a one year low of $11.01 and a one year high of $16.71.
Metcash Company Profile
Metcash Limited operates as a wholesale distribution and marketing company in Australia and New Zealand. It operates through Food & Grocery, Liquor, and Hardware segments. The Food & Grocery segment distributes a range of products and services to independent supermarket and convenience retail outlets.
See Also: How do investors use RSI to grade stocks?

Receive News & Ratings for Metcash Daily - Enter your email address below to receive a concise daily summary of the latest news and analysts' ratings for Metcash and related companies with MarketBeat.com's FREE daily email newsletter.