Equities research analysts predict that USG Co. (NYSE:USG) will announce earnings of $0.51 per share for the current fiscal quarter, according to Zacks. Three analysts have issued estimates for USG's earnings, with the lowest EPS estimate coming in at $0.48 and the highest estimate coming in at $0.53. USG reported earnings per share of $0.53 during the same quarter last year, which suggests a negative year-over-year growth rate of 3.8%. The company is scheduled to report its next quarterly earnings report on Thursday, February 7th.
According to Zacks, analysts expect that USG will report full-year earnings of $1.86 per share for the current financial year, with EPS estimates ranging from $1.75 to $2.15. For the next year, analysts expect that the business will post earnings of $2.35 per share, with EPS estimates ranging from $1.99 to $2.76. Zacks' EPS calculations are an average based on a survey of sell-side research analysts that follow USG.
USG (NYSE:USG) last announced its quarterly earnings data on Thursday, October 25th. The construction company reported $0.45 EPS for the quarter, missing the Zacks' consensus estimate of $0.57 by ($0.12). USG had a net margin of 2.75% and a return on equity of 13.93%. The business had revenue of $851.00 million during the quarter, compared to analysts' expectations of $850.00 million.
Separately,
Zacks Investment Research
cut USG from a "hold" rating to a "sell" rating in a research note on Tuesday, October 30th. One investment analyst has rated the stock with a sell rating, nine have issued a hold rating and two have issued a buy rating to the stock. The company currently has an average rating of "Hold" and an average price target of $42.17.
Shares of USG traded down $0.08 during midday trading on Tuesday, reaching $43.04. 871,000 shares of the company were exchanged, compared to its average volume of 1,414,268. The stock has a market cap of $6.02 billion, a PE ratio of 23.91, a P/E/G ratio of 1.04 and a beta of 0.86. USG has a 1-year low of $32.09 and a 1-year high of $43.47. The company has a debt-to-equity ratio of 0.58, a current ratio of 2.10 and a quick ratio of 1.52.
In other USG news, insider Brian J. Cook sold 15,000 shares of the firm's stock in a transaction dated Monday, October 15th. The shares were sold at an average price of $42.85, for a total transaction of $642,750.00. Following the completion of the transaction, the insider now owns 49,070 shares in the company, valued at $2,102,649.50. The sale was disclosed in a filing with the SEC, which can be accessed through the SEC website. Also, insider Brian J. Cook sold 52,063 shares of the firm's stock in a transaction that occurred on Monday, December 3rd. The stock was sold at an average price of $43.04, for a total transaction of $2,240,791.52. Following the sale, the insider now directly owns 66,629 shares of the company's stock, valued at approximately $2,867,712.16. The disclosure for this sale can be found here. Over the last ninety days, insiders sold 124,715 shares of company stock worth $5,347,155. 0.66% of the stock is currently owned by company insiders.
Several institutional investors have recently modified their holdings of the stock. Synovus Financial Corp bought a new position in shares of USG during the second quarter worth $129,000. Ancora Advisors LLC bought a new stake in USG in the 3rd quarter valued at $130,000. US Bancorp DE lifted its position in USG by 54.8% during the 2nd quarter. US Bancorp DE now owns 4,055 shares of the construction company's stock worth $174,000 after buying an additional 1,435 shares in the last quarter. People s United Financial Inc. bought a new stake in USG during the 3rd quarter worth about $214,000. Finally, Hartford Investment Management Co. bought a new stake in USG during the 2nd quarter worth about $231,000. 79.33% of the stock is owned by institutional investors and hedge funds.
About USG
USG Corporation, through its subsidiaries, manufactures and sells building materials worldwide. The company's Gypsum division manufactures and markets gypsum and related products to construct walls, ceilings, roofs, and floors of residential, commercial, and institutional buildings, as well as for various industrial applications.
Featured Story: Understanding each part of a balance sheet
Get a free copy of the Zacks research report on USG (USG)
For more information about research offerings from Zacks Investment Research, visit Zacks.com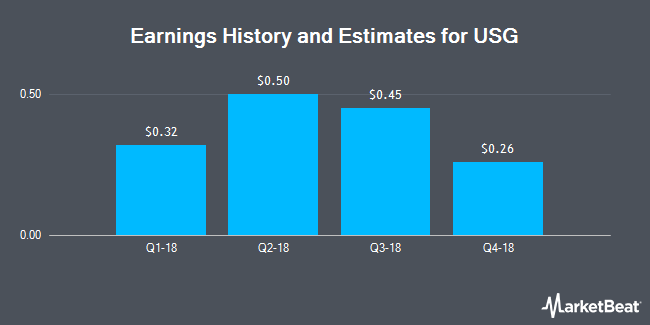 Receive News & Ratings for USG Daily - Enter your email address below to receive a concise daily summary of the latest news and analysts' ratings for USG and related companies with MarketBeat.com's FREE daily email newsletter.