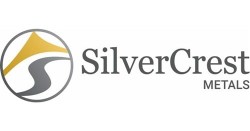 SilverCrest Metals Inc (CVE:SIL) – Equities research analysts at National Bank Financial cut their FY2021 EPS estimates for SilverCrest Metals in a report released on Thursday, November 29th. National Bank Financial analyst D. Demarco now anticipates that the company will earn $0.79 per share for the year, down from their prior estimate of $0.81. National Bank Financial has a "Outperform" rating and a $5.25 price objective on the stock.
A number of other research analysts have also recently weighed in on the company. Eight Capital raised their price target on SilverCrest Metals from C$4.30 to C$4.45 in a research report on Friday, November 30th. Royal Bank of Canada set a C$5.00 price target on SilverCrest Metals and gave the company an "outperform" rating in a research report on Tuesday, October 23rd. One research analyst has rated the stock with a hold rating and five have given a buy rating to the company's stock. The stock presently has an average rating of "Buy" and an average price target of C$4.68.
CVE:SIL
opened at C$3.22 on Monday. SilverCrest Metals has a 1 year low of C$1.26 and a 1 year high of C$3.80.
In other news, Director John H. Wright purchased 10,000 shares of the company's stock in a transaction dated Tuesday, November 13th. The stock was acquired at an average price of C$3.21 per share, for a total transaction of C$32,100.00. In the last 90 days, insiders bought 24,800 shares of company stock valued at $79,814.
SilverCrest Metals Company Profile
SilverCrest Metals Inc engages in the acquisition, exploration, and development of precious metal properties. It primarily explores for silver and gold properties. The company's principal property is the Las Chispas project that consists of 27 concessions totaling approximately 1,389 hectares located in Sonora, Mexico.
Featured Story: Municipal Bonds
Receive News & Ratings for SilverCrest Metals Daily - Enter your email address below to receive a concise daily summary of the latest news and analysts' ratings for SilverCrest Metals and related companies with MarketBeat.com's FREE daily email newsletter.