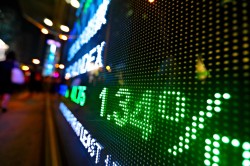 Bay Commercial Bank (NASDAQ:BCML) has been given a consensus broker rating score of 1.00 (Strong Buy) from the two brokers that provide coverage for the company, Zacks Investment Research reports. Two investment analysts have rated the stock with a strong buy recommendation.
Brokerages have set a twelve-month consensus price target of $28.75 for the company and are predicting that the company will post $0.36 EPS for the current quarter, according to Zacks. Zacks has also given Bay Commercial Bank an industry rank of 164 out of 256 based on the ratings given to related companies.
A number of brokerages have commented on BCML. Zacks Investment Research upgraded shares of Bay Commercial Bank from a "hold" rating to a "strong-buy" rating and set a $26.00 price objective for the company in a research report on Thursday, January 3rd. ValuEngine upgraded shares of Bay Commercial Bank from a "sell" rating to a "hold" rating in a research report on Wednesday, January 2nd.
Shares of
Bay Commercial Bank stock
opened at $23.69 on Friday. Bay Commercial Bank has a 12-month low of $17.19 and a 12-month high of $26.94. The firm has a market capitalization of $240.73 million, a PE ratio of 15.59, a P/E/G ratio of 1.06 and a beta of 0.41.
Bay Commercial Bank (NASDAQ:BCML) last issued its quarterly earnings results on Wednesday, October 24th. The company reported $0.31 earnings per share for the quarter, missing the Zacks' consensus estimate of $0.42 by ($0.11). The company had revenue of $14.65 million for the quarter, compared to analysts' expectations of $14.77 million. Sell-side analysts expect that Bay Commercial Bank will post 1.64 earnings per share for the current year.
In other Bay Commercial Bank news, insider George J. Guarini purchased 1,400 shares of the business's stock in a transaction that occurred on Tuesday, December 11th. The shares were purchased at an average price of $23.00 per share, for a total transaction of $32,200.00. The purchase was disclosed in a document filed with the Securities & Exchange Commission, which is accessible through the SEC website. 5.40% of the stock is currently owned by company insiders.
A hedge fund recently raised its stake in Bay Commercial Bank stock. Vanguard Group Inc increased its stake in Bay Commercial Bank (NASDAQ:BCML) by 14.9% in the third quarter, according to the company in its most recent disclosure with the Securities and Exchange Commission. The fund owned 480,637 shares of the company's stock after buying an additional 62,271 shares during the period. Vanguard Group Inc owned about 4.64% of Bay Commercial Bank worth $12,824,000 at the end of the most recent reporting period. Institutional investors and hedge funds own 61.76% of the company's stock.
About Bay Commercial Bank
BayCom Corp. operates as a bank holding company of Bay Commercial Bank. It offers loans, credit, deposit products and services, business cash management, business and personal services, 1031 Exchange, and escrow services through its bank subsidiary. The company was founded on November 9, 2016 and is headquartered in Walnut Creek, CA.
Further Reading: What is the Book Value of a Share?

Get a free copy of the Zacks research report on Bay Commercial Bank (BCML)
For more information about research offerings from Zacks Investment Research, visit Zacks.com
Receive News & Ratings for Bay Commercial Bank Daily - Enter your email address below to receive a concise daily summary of the latest news and analysts' ratings for Bay Commercial Bank and related companies with MarketBeat.com's FREE daily email newsletter.