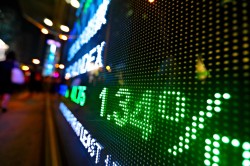 National Bank Financial lowered shares of New Look Vision Group (TSE:BCI) from an outperform rating to a sector perform rating in a research report sent to investors on Thursday. National Bank Financial currently has C$34.00 target price on the stock, down from their prior target price of C$38.00. National Bank Financial also issued estimates for New Look Vision Group's Q1 2019 earnings at $0.22 EPS, Q2 2019 earnings at $0.34 EPS, Q3 2019 earnings at $0.35 EPS and Q4 2019 earnings at $0.34 EPS.
Shares of TSE:BCI opened at C$30.65 on Thursday. New Look Vision Group has a 1-year low of C$26.01 and a 1-year high of C$37.19. The company has a quick ratio of 0.23, a current ratio of 0.82 and a debt-to-equity ratio of 110.47.
New Look Vision Group (TSE:BCI) last issued its quarterly earnings results on Monday, November 12th. The company reported C$0.56 EPS for the quarter, beating the Thomson Reuters' consensus estimate of C$0.31 by C$0.25. The firm had revenue of C$72.87 million during the quarter, compared to analysts' expectations of C$71.65 million. On average, analysts expect that New Look Vision Group will post 0.920000051914078 EPS for the current year.
The company also recently declared a quarterly dividend, which was paid on Monday, December 31st. Investors of record on Thursday, December 20th were given a $0.15 dividend. The ex-dividend date was Wednesday, December 19th. This represents a $0.60 annualized dividend and a dividend yield of 1.96%. New Look Vision Group's dividend payout ratio (DPR) is presently 66.67%.
About New Look Vision Group
New Look Vision Group Inc provides eye care products and services in eastern Canada. The company offers prescription eyewear and non-prescription eyewear; contact lenses; sunglasses, protective eyewear, and reading glasses; and accessories, such as cleaning products for eyeglasses and contact lenses.
Featured Article: Trading Strategy Methods and Types
Receive News & Ratings for New Look Vision Group Daily - Enter your email address below to receive a concise daily summary of the latest news and analysts' ratings for New Look Vision Group and related companies with MarketBeat.com's FREE daily email newsletter.