Bayer (OTCMKTS:BAYRY) was upgraded by Zacks Investment Research from a "strong sell" rating to a "hold" rating in a report issued on Wednesday.
According to Zacks, "Bayer completed the acquisition of Monsanto in June 2018. The combined enterprise will enable the company to bring innovations to the market faster, and provide customers with better solutions. Consequently, Bayer has the widest portfolio of seed and crop protection products for a broad range of crops and indications. However, the company is facing generic competition for many of its products, including the Yaz franchise (oral contraceptives). This will negatively impact revenues of the company. Bayer's dependence on its pharmaceutical segment for growth is a concern. Shares of the company have underperformed the industry year to date. Estimates have reduced ahead of the Q4 earnings. The company has a mixed record of earnings surprises in recent quarters."
Several other brokerages have also commented on BAYRY. ValuEngine upgraded Bayer from a "strong sell" rating to a "sell" rating in a research report on Monday, February 4th. JPMorgan Chase & Co. lowered Bayer from an "overweight" rating to a "neutral" rating in a research report on Wednesday, January 2nd. One research analyst has rated the stock with a sell rating, three have given a hold rating and three have given a buy rating to the stock. Bayer currently has an average rating of "Hold".
Bayer stock
traded up $0.13 during trading on Wednesday, hitting $19.25. 61,527 shares of the company were exchanged, compared to its average volume of 548,007. The company has a market capitalization of $71.80 billion, a P/E ratio of 10.13, a price-to-earnings-growth ratio of 1.28 and a beta of 0.96. The company has a current ratio of 1.59, a quick ratio of 1.04 and a debt-to-equity ratio of 0.80. Bayer has a 52 week low of $16.58 and a 52 week high of $32.80.
Bayer (OTCMKTS:BAYRY) last posted its quarterly earnings results on Tuesday, November 13th. The company reported $0.35 earnings per share for the quarter, missing the consensus estimate of $0.41 by ($0.06). The firm had revenue of $11.52 billion for the quarter, compared to the consensus estimate of $11.31 billion. Bayer had a return on equity of 13.59% and a net margin of 15.58%. On average, analysts predict that Bayer will post 1.64 EPS for the current year.
About Bayer
Bayer Aktiengesellschaft operates as a life science company worldwide. It operates through Pharmaceuticals, Consumer Health, Crop Science, and Animal Health segments. The Pharmaceuticals segment offers prescription products primarily for cardiology and women's health care; specialty therapeutics in the areas of oncology, hematology, and ophthalmology; and diagnostic imaging equipment and contrast agents.
Read More: Diversification For Individual Investors

Get a free copy of the Zacks research report on Bayer (BAYRY)
For more information about research offerings from Zacks Investment Research, visit Zacks.com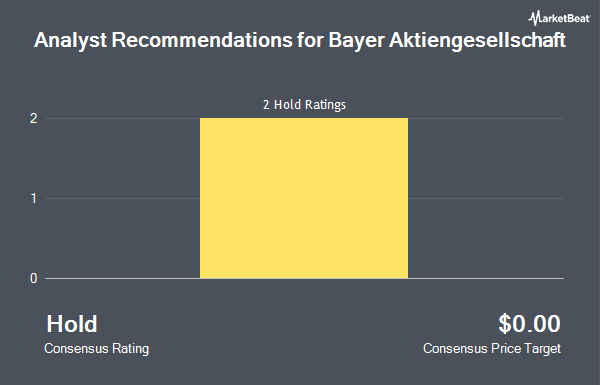 Receive News & Ratings for Bayer Daily - Enter your email address below to receive a concise daily summary of the latest news and analysts' ratings for Bayer and related companies with MarketBeat.com's FREE daily email newsletter.