Optimum Investment Advisors reduced its stake in shares of Sierra Metals Inc (NYSEAMERICAN:SMTS) by 28.8% during the 4th quarter, according to the company in its most recent 13F filing with the Securities and Exchange Commission (SEC). The firm owned 31,500 shares of the company's stock after selling 12,750 shares during the period. Optimum Investment Advisors' holdings in Sierra Metals were worth $55,000 as of its most recent SEC filing.
Separately, Ramsey Quantitative Systems raised its holdings in Sierra Metals by 54.4% in the third quarter. Ramsey Quantitative Systems now owns 199,125 shares of the company's stock valued at $501,000 after buying an additional 70,161 shares during the period.
Several analysts have issued reports on the stock. HC Wainwright set a $4.00 price objective on shares of Sierra Metals and gave the company a "buy" rating in a research report on Wednesday, October 31st. Noble Financial reaffirmed a "buy" rating and issued a $4.00 price objective on shares of Sierra Metals in a research report on Wednesday, November 14th. Finally, Zacks Investment Research downgraded shares of Sierra Metals from a "hold" rating to a "sell" rating in a research report on Saturday, November 17th. Two equities research analysts have rated the stock with a hold rating and three have issued a buy rating to the stock. Sierra Metals has a consensus rating of "Buy" and an average target price of $3.75.
NYSEAMERICAN:SMTS
opened at $1.72 on Wednesday. Sierra Metals Inc has a 52-week low of $1.53 and a 52-week high of $3.00.
Sierra Metals (NYSEAMERICAN:SMTS) last released its earnings results on Monday, November 12th. The company reported $0.03 earnings per share (EPS) for the quarter, missing analysts' consensus estimates of $0.04 by ($0.01). The company had revenue of $52.96 million during the quarter, compared to analysts' expectations of $54.75 million.
COPYRIGHT VIOLATION WARNING: This news story was first published by Community Financial News and is the property of of Community Financial News. If you are viewing this news story on another publication, it was stolen and reposted in violation of United States & international copyright and trademark law. The legal version of this news story can be accessed at https://www.com-unik.info/2019/02/13/sierra-metals-inc-smts-stake-decreased-by-optimum-investment-advisors.html.
Sierra Metals Profile
Sierra Metals Inc engages in the production, exploration, and development of precious and base metals in Peru and Mexico. It primarily focuses on exploration of silver, copper, lead, zinc, and gold deposits. The company holds 81.84% interest in the polymetallic Yauricocha Mine located in the Yauyos province in Peru.
Recommended Story: Trading Ex-Dividend Strategy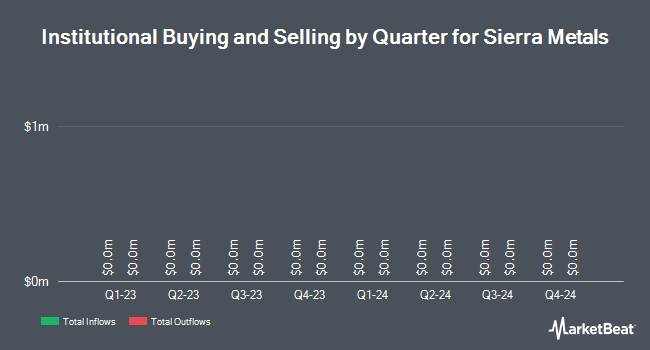 Receive News & Ratings for Sierra Metals Daily - Enter your email address below to receive a concise daily summary of the latest news and analysts' ratings for Sierra Metals and related companies with MarketBeat.com's FREE daily email newsletter.