Hydro One (TSE:H) is set to announce its earnings results before the market opens on Thursday, February 21st. Analysts expect the company to announce earnings of C$0.21 per share for the quarter.
H opened at C$20.72 on Thursday. The firm has a market cap of $12.41 billion and a P/E ratio of 16.06. Hydro One has a fifty-two week low of C$18.57 and a fifty-two week high of C$21.60. The company has a debt-to-equity ratio of 118.23, a current ratio of 0.69 and a quick ratio of 0.63.
A number of equities analysts have commented on H shares. National Bank Financial lifted their price objective on shares of Hydro One from C$21.00 to C$23.00 and gave the stock a "sector perform" rating in a research note on Thursday, December 6th. CIBC raised their target price on shares of Hydro One from C$19.75 to C$20.00 in a report on Thursday, December 6th. Finally, Raymond James restated a "market perform" rating on shares of Hydro One in a report on Wednesday. One research analyst has rated the stock with a sell rating and nine have issued a hold rating to the company's stock. The stock currently has an average rating of "Hold" and a consensus price target of C$21.50.
COPYRIGHT VIOLATION NOTICE: "Hydro One (H) Scheduled to Post Quarterly Earnings on Thursday" was originally posted by Community Financial News and is the property of of Community Financial News. If you are viewing this piece of content on another site, it was illegally copied and republished in violation of US and international trademark and copyright laws. The original version of this piece of content can be viewed at https://www.com-unik.info/2019/02/14/hydro-one-h-scheduled-to-post-quarterly-earnings-on-thursday.html.
Hydro One Company Profile
Hydro One Limited, through its subsidiaries, operates as an electrical transmission and distribution company in Ontario. It operates through three segments: Transmission, Distribution, and Other Business. The company owns and operates approximately 30,000 circuit kilometers of high-voltage transmission network and 123,000 circuit kilometers of low-voltage distribution network; and 308 transmission stations.
Further Reading: Trading Strategy Examples and Plans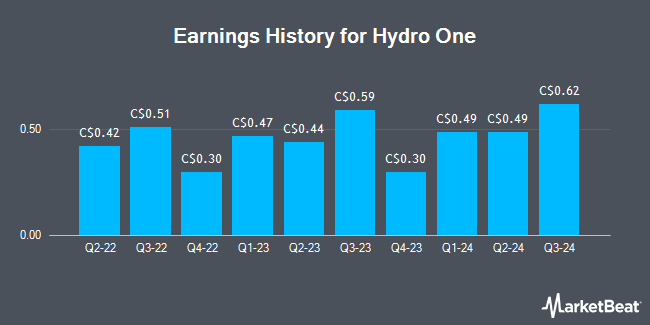 Receive News & Ratings for Hydro One Daily - Enter your email address below to receive a concise daily summary of the latest news and analysts' ratings for Hydro One and related companies with MarketBeat.com's FREE daily email newsletter.