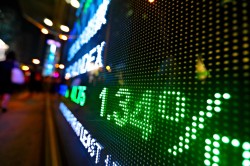 ShiftPixy Inc (NASDAQ:PIXY) was the recipient of a significant drop in short interest in January. As of January 31st, there was short interest totalling 645,730 shares, a drop of 30.2% from the January 15th total of 924,742 shares. Currently, 11.3% of the company's stock are short sold. Based on an average trading volume of 325,611 shares, the days-to-cover ratio is presently 2.0 days.
PIXY stock opened at $1.63 on Thursday. ShiftPixy has a twelve month low of $1.14 and a twelve month high of $6.35. The company has a market cap of $40.75 million, a price-to-earnings ratio of -2.81 and a beta of 1.15.
ShiftPixy (NASDAQ:PIXY) last released its quarterly earnings data on Friday, January 11th. The company reported ($0.07) earnings per share for the quarter, topping analysts' consensus estimates of ($0.18) by $0.11. ShiftPixy had a negative net margin of 39.10% and a negative return on equity of 874.51%. The company had revenue of $10.52 million for the quarter, compared to analysts' expectations of $12.38 million. Sell-side analysts expect that ShiftPixy will post -0.12 EPS for the current year.
A number of hedge funds have recently added to or reduced their stakes in the business. Granite Investment Partners LLC acquired a new stake in ShiftPixy during the third quarter worth approximately $1,385,000. Vanguard Group Inc raised its holdings in ShiftPixy by 26.0% during the third quarter. Vanguard Group Inc now owns 46,515 shares of the company's stock worth $180,000 after purchasing an additional 9,598 shares in the last quarter. BlackRock Inc. acquired a new stake in ShiftPixy during the second quarter worth approximately $114,000. Finally, Jane Street Group LLC acquired a new stake in ShiftPixy during the third quarter worth approximately $110,000. 1.78% of the stock is currently owned by institutional investors.
ILLEGAL ACTIVITY NOTICE: This piece of content was published by Community Financial News and is the sole property of of Community Financial News. If you are accessing this piece of content on another publication, it was illegally copied and reposted in violation of United States and international copyright laws. The correct version of this piece of content can be read at https://www.com-unik.info/2019/02/14/shiftpixy-inc-pixy-sees-significant-decrease-in-short-interest.html.
ShiftPixy Company Profile
ShiftPixy, Inc provides employment services for businesses; and workers in shift or other part-time/temporary positions in the United States. The company also operates as a payroll processor, human resources consultant, and administrator of workers' compensation coverages and claims. It primarily serves restaurant, hospitality, and maintenance service industries.
Recommended Story: How to invest in a bear market
Receive News & Ratings for ShiftPixy Daily - Enter your email address below to receive a concise daily summary of the latest news and analysts' ratings for ShiftPixy and related companies with MarketBeat.com's FREE daily email newsletter.