Grand Canyon Education (NASDAQ:LOPE) issued an update on its first quarter earnings guidance on Wednesday morning. The company provided EPS guidance of $1.49 for the period, compared to the Thomson Reuters consensus EPS estimate of $1.40. The company issued revenue guidance of $195.5 million, compared to the consensus revenue estimate of $195.55 million.Grand Canyon Education also updated its FY19 guidance to $5.10 EPS.
Shares of Grand Canyon Education stock traded up $20.79 on Thursday, hitting $117.95. The company had a trading volume of 1,505,812 shares, compared to its average volume of 401,460. The stock has a market capitalization of $4.67 billion, a PE ratio of 29.79, a price-to-earnings-growth ratio of 1.19 and a beta of 0.96. Grand Canyon Education has a twelve month low of $90.67 and a twelve month high of $130.10. The company has a quick ratio of 4.65, a current ratio of 4.65 and a debt-to-equity ratio of 0.05.
Grand Canyon Education (NASDAQ:LOPE) last released its quarterly earnings results on Wednesday, February 20th. The company reported $1.56 earnings per share for the quarter, beating the Thomson Reuters' consensus estimate of $1.42 by $0.14. The company had revenue of $177.54 million during the quarter, compared to analysts' expectations of $175.25 million. Grand Canyon Education had a net margin of 23.60% and a return on equity of 21.66%. The business's quarterly revenue was down 34.6% compared to the same quarter last year. During the same quarter in the prior year, the company earned $1.41 earnings per share. Equities analysts anticipate that Grand Canyon Education will post 4.94 EPS for the current fiscal year.
LOPE has been the subject of several research analyst reports. BidaskClub cut shares of Grand Canyon Education from a hold rating to a sell rating in a report on Thursday, December 13th.
Zacks Investment Research
cut shares of Grand Canyon Education from a hold rating to a sell rating in a report on Tuesday, February 5th. Barrington Research restated a buy rating and set a $150.00 target price on shares of Grand Canyon Education in a report on Tuesday, December 18th. Robert W. Baird reduced their target price on shares of Grand Canyon Education from $141.00 to $130.00 and set an outperform rating for the company in a report on Wednesday, December 19th. Finally,
ValuEngine
cut shares of Grand Canyon Education from a buy rating to a hold rating in a report on Friday, January 11th. Three equities research analysts have rated the stock with a sell rating, one has issued a hold rating and three have assigned a buy rating to the stock. The stock presently has a consensus rating of Hold and an average target price of $125.80.
In related news, insider Joseph N. Mildenhall sold 2,000 shares of the stock in a transaction on Tuesday, December 11th. The shares were sold at an average price of $110.71, for a total transaction of $221,420.00. Following the completion of the transaction, the insider now owns 77,402 shares in the company, valued at $8,569,175.42. The sale was disclosed in a filing with the Securities & Exchange Commission, which is accessible through the SEC website. Also, CEO Brian E. Mueller sold 30,000 shares of the stock in a transaction on Monday, December 10th. The stock was sold at an average price of $111.39, for a total transaction of $3,341,700.00. Following the transaction, the chief executive officer now owns 308,339 shares of the company's stock, valued at approximately $34,345,881.21. The disclosure for this sale can be found here. Insiders have sold 47,000 shares of company stock valued at $5,233,970 in the last 90 days. 2.40% of the stock is currently owned by corporate insiders.
COPYRIGHT VIOLATION NOTICE: "Grand Canyon Education (LOPE) Issues Q1 Earnings Guidance" was first reported by Community Financial News and is owned by of Community Financial News. If you are accessing this story on another domain, it was illegally stolen and reposted in violation of US and international trademark and copyright laws. The legal version of this story can be read at https://www.com-unik.info/2019/02/21/grand-canyon-education-lope-issues-q1-earnings-guidance.html.
About Grand Canyon Education
Grand Canyon Education, Inc, together with its subsidiaries, provides education services in the United States and Canada. The company operates Grand Canyon University that offers approximately 225 graduate and undergraduate degree programs and certificates across 9 colleges online and on ground through campus in Phoenix, Arizona; leased facilities; and facilities owned by third party employers.
See Also: Investing in Blue-Chip Stocks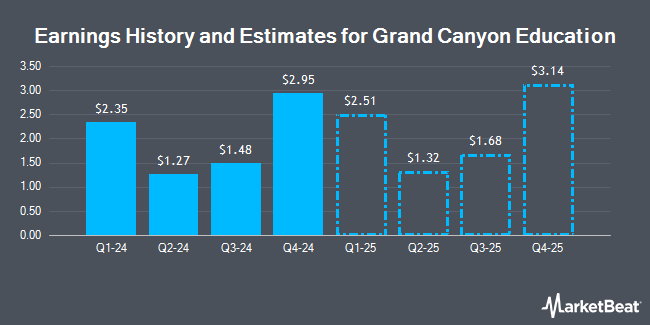 Receive News & Ratings for Grand Canyon Education Daily - Enter your email address below to receive a concise daily summary of the latest news and analysts' ratings for Grand Canyon Education and related companies with MarketBeat.com's FREE daily email newsletter.