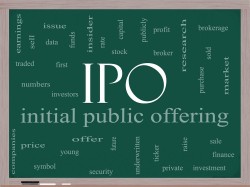 PagerDuty (PD) is planning to raise $182 million in an IPO on Thursday, April 11th, IPO Scoop reports. The company will issue 9,100,000 shares at $19.00-$21.00 per share.
In the last year, PagerDuty generated $117.8 million in revenue and had a net loss of $40.7 million. PagerDuty has a market cap of $1.5 billion.
Morgan Stanley, J.P. Morgan Securities, RBC Capital Markets and Allen acted as the underwriters for the IPO and KeyBanc Capital Markets, Piper Jaffray, William Blair and BTIG were co-managers.
PagerDuty provided the following description of their company for its IPO: " PagerDuty acts as the central nervous system for the digital enterprise. PagerDuty harnesses digital signals from virtually any software-enabled system or device, combines it with human response data, and orchestrates teams to take the right actions in real time. Our products help organizations improve operations, accelerate innovation, increase revenue, mitigate security risk, and deliver great customer experience. Companies across every industry are undergoing digital transformation in response to their customers' changing needs. Consumers want to have food delivered to their home from the restaurant of their choice within an hour, to stream a movie on an iPhone while waiting in line at the airport, and to do their holiday shopping from the couch with a few clicks, and a car to show up within minutes to take them anywhere they want to go. Businesses need to accept mobile payments from hundreds of thousands of global customers during a product launch, to instantly update software in autonomous cars to prevent accidents, and to reach customers using e-mail, SMS, and phone with evacuation information during an emergency. ".
PagerDuty was founded in 2010 and has 524 employees. The company is located at 600 Townsend St., Suite 200, San Francisco, CA 94103, US and can be reached via phone at (844) 800-3889 or on the web at http://www.pagerduty.com.
Receive News & Ratings for PagerDuty Daily - Enter your email address below to receive a concise daily summary of the latest news and analysts' ratings for PagerDuty and related companies with MarketBeat.com's FREE daily email newsletter.