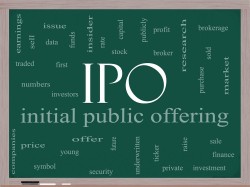 Brainsway Ltd. (BWAY) expects to raise $30 million in an IPO on Wednesday, April 17th, IPO Scoop reports. The company will be issuing 2,500,000 shares at a price of $11.94 per share.
In the last twelve months, Brainsway Ltd. generated $16.4 million in revenue and $6.5 million in net income. The company has a market cap of $129.2 million.
Cantor served as the underwriter for the IPO.
Brainsway Ltd. provided the following description of their company for its IPO: "(Note: Not an IPO, a Public Offering: "Our ordinary shares are listed on the Tel Aviv Stock Exchange, or the TASE, under the symbol "BRIN." On April 2, 2019, the last reported sale price of our ordinary shares on the TASE was NIS 21.64, or $5.97 per share (based on the exchange rate reported by the Bank of Israel on such date, which was NIS 3.624 = US$1.00). In this prospectus, we have assumed an initial public offering price of $11.94 per ADS, based on the last reported sale price of our ordinary shares on the TASE on April 2, 2019." We are a commercial stage medical device company focused on the development and sale of non-invasive neuromodulation products using our proprietary Deep Transcranial Magnetic Stimulation (Deep TMS) technology for the treatment of major depressive disorder (MDD) and obsessive-compulsive disorder (OCD), for which we have received marketing authorization from the U.S. Food and Drug Administration (FDA). Deep TMS uses magnetic pulses to stimulate neurons and consequently modulates the physiological activity of the brain. Our technology can either increase brain activity in neuronal networks which are hypoactive, or alternatively decrease brain activity in neuronal networks which are hyperactive. Our proprietary electromagnetic coils, which we refer to as H-Coils, are designed to safely stimulate deep and broad brain regions, which we believe provides an advantage over other available TMS products, which we refer to collectively as Focal TMS, that generally use a "figure 8" design. We believe that our Deep TMS technology has the potential to be safe and effective for the treatment of a wide range of psychiatric, neurological and addiction disorders beyond MDD and OCD. ".
Brainsway Ltd. was founded in 2006 and has 96 employees. The company is located at 19 Hartum Street, Bynet Building, 3rd Floor, Har HaHotzvim, Jerusalem 91451, Israel and can be reached via phone at +972-2-581-3140 or on the web at http://www.brainsway.com.
Receive News & Ratings for Brainsway Ltd. Daily - Enter your email address below to receive a concise daily summary of the latest news and analysts' ratings for Brainsway Ltd. and related companies with MarketBeat.com's FREE daily email newsletter.