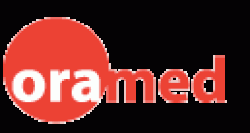 Oramed Pharmaceuticals (NASDAQ:ORMP)'s stock had its "buy" rating reaffirmed by investment analysts at HC Wainwright in a research report issued to clients and investors on Monday, AnalystRatings.com reports. They presently have a $25.00 target price on the biotechnology company's stock.
The analysts wrote, "Valuation methodology, risks and uncertainties. 15% discount rate, a 75% probability of success for ORMD-0801, and peak annual sales of roughly $2.1B (on which we project double-digit percentage royalties), we derive a total rNPV of $200M within the diabetes indication.""
ORMP stock opened at $4.15 on Monday. The firm has a market cap of $72.13 million, a PE ratio of -4.83 and a beta of 1.17. Oramed Pharmaceuticals has a fifty-two week low of $2.78 and a fifty-two week high of $8.59.
A hedge fund recently raised its stake in Oramed Pharmaceuticals stock. BlackRock Inc. lifted its position in shares of Oramed Pharmaceuticals, Inc. (NASDAQ:ORMP) by 137.2% in the 4th quarter, according to its most recent 13F filing with the SEC. The firm owned 69,343 shares of the biotechnology company's stock after acquiring an additional 40,114 shares during the quarter. BlackRock Inc. owned approximately 0.40% of Oramed Pharmaceuticals worth $208,000 at the end of the most recent quarter. Hedge funds and other institutional investors own 10.50% of the company's stock.
About Oramed Pharmaceuticals
Oramed Pharmaceuticals Inc engages in the research and development of pharmaceutical solutions for the use of orally ingestible capsules or pills for delivery of polypeptides. Its product portfolio includes ORMD-0801, an oral insulin capsule for the treatment of diabetes; and ORMD-0901, an oral glucagon-like peptide-1 analog capsule for the treatment of type 2 diabetes.
See Also: Why do company's buyback their stock?

Receive News & Ratings for Oramed Pharmaceuticals Daily - Enter your email address below to receive a concise daily summary of the latest news and analysts' ratings for Oramed Pharmaceuticals and related companies with MarketBeat.com's FREE daily email newsletter.