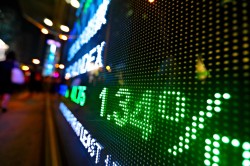 Analysts predict that Auxilio Inc. (NASDAQ:CTEK) will announce earnings of ($0.07) per share for the current quarter, according to Zacks. Two analysts have made estimates for Auxilio's earnings, with estimates ranging from ($0.07) to ($0.06). Auxilio reported earnings of $0.05 per share during the same quarter last year, which would indicate a negative year over year growth rate of 240%. The business is scheduled to report its next earnings results on Monday, May 13th.
On average, analysts expect that Auxilio will report full-year earnings of ($0.11) per share for the current fiscal year, with EPS estimates ranging from ($0.13) to ($0.09). For the next financial year, analysts expect that the business will post earnings of $0.06 per share. Zacks Investment Research's earnings per share calculations are an average based on a survey of analysts that cover Auxilio.
A number of equities research analysts have issued reports on the company. B. Riley reiterated a "buy" rating on shares of Auxilio in a research note on Tuesday, April 2nd. Roth Capital restated a "buy" rating on shares of Auxilio in a research report on Friday, March 22nd.
CTEK stock
traded down $0.04 during trading on Tuesday, reaching $4.82. The company's stock had a trading volume of 400 shares, compared to its average volume of 28,629. Auxilio has a 1 year low of $3.23 and a 1 year high of $5.04.
Auxilio Company Profile
Cynergistek, Inc provides outsourced document management services and IT security consulting services primarily to the healthcare industry in the United States. It offers workflow solutions; and creates manageable, dependable print management programs by managing the back-office processes of hospital clients.
Read More: Total Return
Get a free copy of the Zacks research report on Auxilio (CTEK)
For more information about research offerings from Zacks Investment Research, visit Zacks.com
Receive News & Ratings for Auxilio Daily - Enter your email address below to receive a concise daily summary of the latest news and analysts' ratings for Auxilio and related companies with MarketBeat.com's FREE daily email newsletter.