Autodesk (NASDAQ:ADSK) issued an update on its second quarter 2020 earnings guidance on Thursday morning. The company provided earnings per share (EPS) guidance of $0.59-0.63 for the period, compared to the Thomson Reuters consensus estimate of $0.62. The company issued revenue guidance of $782-792 million, compared to the consensus revenue estimate of $788.53 million.Autodesk also updated its FY 2020 guidance to $2.71-2.90 EPS.
NASDAQ:ADSK traded down $4.49 during trading hours on Thursday, reaching $169.54. 2,036,995 shares of the stock were exchanged, compared to its average volume of 1,712,856. Autodesk has a twelve month low of $117.72 and a twelve month high of $178.95. The stock has a market capitalization of $38.31 billion, a price-to-earnings ratio of 1,541.27, a price-to-earnings-growth ratio of 2.60 and a beta of 1.95.
Autodesk (NASDAQ:ADSK) last released its quarterly earnings results on Thursday, February 28th. The software company reported $0.20 EPS for the quarter, topping analysts' consensus estimates of $0.18 by $0.02. The firm had revenue of $737.30 million for the quarter, compared to analyst estimates of $707.09 million. During the same quarter last year, the company earned ($0.09) earnings per share. As a group, equities analysts predict that Autodesk will post 1.76 earnings per share for the current fiscal year.
A number of research analysts have commented on ADSK shares. Evercore ISI restated a buy rating and set a $190.00 price target on shares of Autodesk in a research note on Thursday, March 21st. Argus upped their price target on Autodesk to $184.00 and gave the stock an average rating in a research note on Tuesday, March 5th. They noted that the move was a valuation call.
Zacks Investment Research
cut Autodesk from a hold rating to a sell rating in a research note on Wednesday, January 23rd. Wedbush restated a neutral rating and set a $163.00 price target on shares of Autodesk in a research note on Friday, March 29th. Finally, BidaskClub cut Autodesk from a buy rating to a hold rating in a research note on Tuesday, March 5th. One equities research analyst has rated the stock with a sell rating, seven have issued a hold rating, fifteen have issued a buy rating and one has given a strong buy rating to the company's stock. The company presently has a consensus rating of Buy and a consensus target price of $173.49.
In other news, SVP Steven M. Blum sold 16,838 shares of the company's stock in a transaction on Wednesday, April 10th. The stock was sold at an average price of $168.68, for a total transaction of $2,840,233.84. The transaction was disclosed in a document filed with the SEC, which is accessible through this link. Also, SVP Fronzo Pascal W. Di sold 11,437 shares of the company's stock in a transaction on Thursday, April 4th. The stock was sold at an average price of $166.86, for a total value of $1,908,377.82. The disclosure for this sale can be found here. Insiders have sold 58,577 shares of company stock worth $9,509,716 in the last ninety days. Corporate insiders own 0.12% of the company's stock.
ILLEGAL ACTIVITY WARNING: This story was first reported by Community Financial News and is the property of of Community Financial News. If you are viewing this story on another publication, it was illegally stolen and reposted in violation of US & international copyright legislation. The correct version of this story can be read at https://www.com-unik.info/2019/05/23/autodesk-adsk-releases-q2-2020-earnings-guidance.html.
About Autodesk
Autodesk, Inc operates as a design software and services company worldwide. The company offers AutoCAD, a professional design, drafting, detailing, and visualization software; AutoCAD Civil 3D, a surveying, design, analysis, and documentation solution for civil engineering, including land development, transportation, and environmental projects; AutoCAD LT, a professional drafting and detailing software; BIM 360, a construction management cloud-based software; computer-aided manufacturing (CAM) software for computer numeric control machining, inspection, and modelling for manufacturing; Fusion 360, a 3D CAD, CAM, and computer-aided engineering tool; and Industry Collections software products for professionals in architecture, engineering and construction, product design and manufacturing, and media and entertainment industries.
See Also: Calculating net profit and net profit margin ratio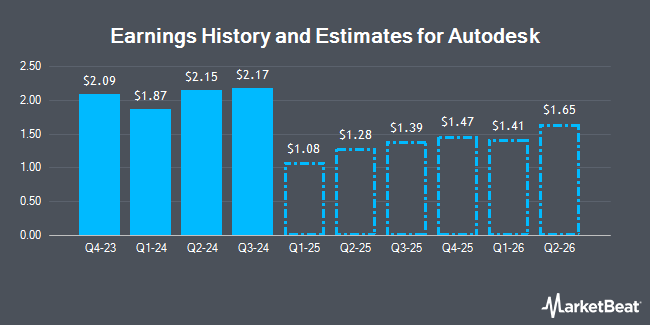 Receive News & Ratings for Autodesk Daily - Enter your email address below to receive a concise daily summary of the latest news and analysts' ratings for Autodesk and related companies with MarketBeat.com's FREE daily email newsletter.