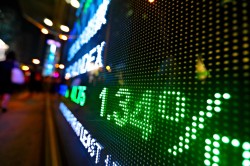 Hawthorn Bancshares, Inc. (NASDAQ:HWBK) was the recipient of a large increase in short interest in the month of May. As of May 31st, there was short interest totalling 5,800 shares, an increase of 132.0% from the April 30th total of 2,500 shares. Based on an average daily volume of 6,600 shares, the short-interest ratio is presently 0.9 days. Approximately 0.1% of the shares of the stock are short sold.
NASDAQ:HWBK traded up $0.14 during trading hours on Monday, hitting $26.44. The stock had a trading volume of 400 shares, compared to its average volume of 10,939. The business's 50 day moving average price is $25.76. The company has a debt-to-equity ratio of 1.40, a current ratio of 0.98 and a quick ratio of 0.98. Hawthorn Bancshares has a one year low of $20.05 and a one year high of $28.62. The stock has a market cap of $165.07 million, a price-to-earnings ratio of 14.17 and a beta of 0.17.
Hawthorn Bancshares (NASDAQ:HWBK) last announced its quarterly earnings results on Tuesday, April 30th. The financial services provider reported $0.50 EPS for the quarter. Hawthorn Bancshares had a net margin of 19.13% and a return on equity of 11.88%. The firm had revenue of $13.72 million during the quarter.
The company also recently declared a quarterly dividend, which will be paid on Monday, July 1st. Shareholders of record on Saturday, June 15th will be issued a $0.12 dividend. This represents a $0.48 annualized dividend and a yield of 1.82%. This is an increase from Hawthorn Bancshares's previous quarterly dividend of $0.10. The ex-dividend date of this dividend is Thursday, June 13th.
A number of large investors have recently made changes to their positions in the business. BlackRock Inc. boosted its holdings in Hawthorn Bancshares by 30.0% in the 4th quarter. BlackRock Inc. now owns 6,754 shares of the financial services provider's stock valued at $141,000 after purchasing an additional 1,559 shares during the period. O Shaughnessy Asset Management LLC purchased a new stake in shares of Hawthorn Bancshares during the 4th quarter valued at $84,000. Finally, Dimensional Fund Advisors LP raised its position in shares of Hawthorn Bancshares by 7.7% during the 4th quarter. Dimensional Fund Advisors LP now owns 119,916 shares of the financial services provider's stock valued at $2,522,000 after buying an additional 8,572 shares in the last quarter. 28.78% of the stock is owned by hedge funds and other institutional investors.
TRADEMARK VIOLATION WARNING: This story was originally published by Community Financial News and is the property of of Community Financial News. If you are viewing this story on another domain, it was illegally stolen and republished in violation of US and international copyright and trademark legislation. The original version of this story can be read at https://www.com-unik.info/2019/06/17/hawthorn-bancshares-inc-nasdaqhwbk-short-interest-up-132-0-in-may.html.
Hawthorn Bancshares Company Profile
Hawthorn Bancshares, Inc operates as the bank holding company for Hawthorn Bank that provides various banking services in Missouri. The company offers checking and savings accounts, and certificates of deposit; and a range of lending services, including commercial and industrial, single payment personal, installment, and commercial and residential real estate loans.
Featured Story: Exchange-Traded Funds (ETFs)
Receive News & Ratings for Hawthorn Bancshares Daily - Enter your email address below to receive a concise daily summary of the latest news and analysts' ratings for Hawthorn Bancshares and related companies with MarketBeat.com's FREE daily email newsletter.