Fidelity Southern Co. (NASDAQ:LION) declared a quarterly dividend on Monday, June 17th, RTT News reports. Stockholders of record on Thursday, June 27th will be given a dividend of 0.12 per share by the financial services provider on Monday, July 1st. This represents a $0.48 annualized dividend and a dividend yield of 1.60%. The ex-dividend date is Wednesday, June 26th.
Fidelity Southern has raised its dividend by an average of 7.2% annually over the last three years. Fidelity Southern has a payout ratio of 33.3% meaning its dividend is sufficiently covered by earnings. Equities research analysts expect Fidelity Southern to earn $1.71 per share next year, which means the company should continue to be able to cover its $0.48 annual dividend with an expected future payout ratio of 28.1%.
Shares of NASDAQ LION traded down $0.23 during midday trading on Tuesday, hitting $29.97. The company's stock had a trading volume of 454 shares, compared to its average volume of 77,250. The company's fifty day moving average price is $29.34. The company has a debt-to-equity ratio of 0.26, a current ratio of 0.99 and a quick ratio of 0.93. Fidelity Southern has a 1 year low of $21.18 and a 1 year high of $33.32. The stock has a market capitalization of $837.47 million, a price-to-earnings ratio of 18.76 and a beta of 0.68.
Fidelity Southern (NASDAQ:LION) last issued its quarterly earnings results on Thursday, April 18th. The financial services provider reported $0.22 earnings per share (EPS) for the quarter, missing analysts' consensus estimates of $0.34 by ($0.12). Fidelity Southern had a return on equity of 8.68% and a net margin of 12.21%. The firm had revenue of $62.09 million during the quarter, compared to analysts' expectations of $65.10 million. As a group, equities analysts forecast that Fidelity Southern will post 1.57 EPS for the current fiscal year.
A number of brokerages recently issued reports on LION. BidaskClub upgraded shares of Fidelity Southern from a "hold" rating to a "buy" rating in a research note on Monday, June 10th. Zacks Investment Research upgraded shares of Fidelity Southern from a "hold" rating to a "buy" rating and set a $33.00 price target for the company in a research note on Saturday, June 8th. Finally, Stephens reiterated a "buy" rating and issued a $31.00 price target on shares of Fidelity Southern in a research note on Thursday, April 18th. Five analysts have rated the stock with a buy rating, The stock currently has a consensus rating of "Buy" and a consensus price target of $30.00.
About Fidelity Southern
Fidelity Southern Corporation operates as the bank holding company for Fidelity Bank that provides financial products and services primarily to individuals and small to medium-sized businesses in the United States. The company accepts noninterest-bearing and interest-bearing demand accounts, including money market accounts and savings deposits; and time deposits.
Recommended Story: Why do companies engage in swaps?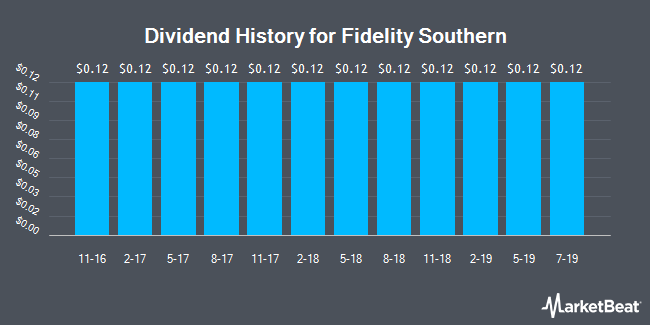 Receive News & Ratings for Fidelity Southern Daily - Enter your email address below to receive a concise daily summary of the latest news and analysts' ratings for Fidelity Southern and related companies with MarketBeat.com's FREE daily email newsletter.