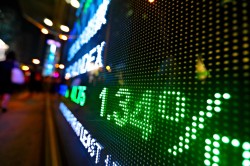 Shares of Clarkston Financial Co. (OTCMKTS:CKFC) fell 0.2% during trading on Friday . The stock traded as low as $10.21 and last traded at $10.32, 974 shares changed hands during mid-day trading. An increase of 9% from the average session volume of 890 shares. The stock had previously closed at $10.34.
The company has a quick ratio of 1.05, a current ratio of 1.05 and a debt-to-equity ratio of 0.27. The firm has a market cap of $33.54 million, a price-to-earnings ratio of 14.16 and a beta of 0.37. The firm's 50-day moving average is $9.88.
Clarkston Financial (OTCMKTS:CKFC) last announced its earnings results on Thursday, April 18th. The company reported $0.17 EPS for the quarter. The firm had revenue of $2.10 million for the quarter. Clarkston Financial had a net margin of 25.49% and a return on equity of 14.00%.
About Clarkston Financial
(
OTCMKTS:CKFC
)
Clarkston Financial Corporation operates as a bank holding company for Clarkston State Bank, provides a range of banking products to retail and commercial customers in Michigan. The company offers checking, savings, money market, time deposit, and demand deposit accounts, as well as CDs and IRAs; commercial loan products, such as commercial real estate loans, small business administration loans, construction loans, equipment/fixed asset acquisition loans, lines of credit, letters of credit, and working capital and term loans; and consumer loan products, including auto loans, boat loans, motorcycle and RV loans, home equity lines of credit, and home equity loans, as well as credit cards.
Featured Story: How to read a candlestick chart

Receive News & Ratings for Clarkston Financial Daily - Enter your email address below to receive a concise daily summary of the latest news and analysts' ratings for Clarkston Financial and related companies with MarketBeat.com's FREE daily email newsletter.