Agree Realty (NYSE:ADC) will issue its quarterly earnings data after the market closes on Monday, July 22nd. Analysts expect the company to announce earnings of $0.75 per share for the quarter.
Agree Realty (NYSE:ADC) last released its quarterly earnings data on Monday, April 22nd. The real estate investment trust reported $0.48 EPS for the quarter, missing analysts' consensus estimates of $0.74 by ($0.26). Agree Realty had a return on equity of 5.33% and a net margin of 38.49%. The firm had revenue of $42.35 million during the quarter, compared to analyst estimates of $43.77 million. On average, analysts expect Agree Realty to post $3 EPS for the current fiscal year and $3 EPS for the next fiscal year.
Shares of ADC stock opened at $63.16 on Friday. Agree Realty has a 12 month low of $50.72 and a 12 month high of $70.25. The company has a debt-to-equity ratio of 0.60, a quick ratio of 0.75 and a current ratio of 0.75. The company's 50 day moving average is $65.88. The firm has a market capitalization of $2.60 billion, a P/E ratio of 22.16, a PEG ratio of 3.64 and a beta of 0.08.
The business also recently declared a quarterly dividend, which was paid on Friday, July 12th. Shareholders of record on Friday, June 28th were issued a dividend of $0.57 per share. This represents a $2.28 annualized dividend and a yield of 3.61%. The ex-dividend date of this dividend was Thursday, June 27th. This is an increase from Agree Realty's previous quarterly dividend of $0.56. Agree Realty's dividend payout ratio (DPR) is 80.00%.
In other Agree Realty news, Director Farris G. Kalil sold 1,034 shares of the stock in a transaction that occurred on Monday, July 1st. The stock was sold at an average price of $63.70, for a total transaction of $65,865.80. Following the transaction, the director now owns 8,000 shares in the company, valued at $509,600. The sale was disclosed in a filing with the SEC, which is available at the SEC website. Also, Director John Rakolta, Jr. purchased 6,801 shares of the stock in a transaction on Friday, May 3rd. The shares were bought at an average price of $66.19 per share, for a total transaction of $450,158.19. Following the acquisition, the director now owns 206,088 shares of the company's stock, valued at $13,640,964.72. The disclosure for this purchase can be found here. In the last quarter, insiders have acquired 17,601 shares of company stock worth $1,145,935. Corporate insiders own 3.10% of the company's stock.
Agree Realty Company Profile
Agree Realty Corporation is a publicly traded real estate investment trust primarily engaged in the acquisition and development of properties net leased to industry-leading retail tenants. As of March 31, 2019, the Company owned and operated a portfolio of 694 properties, located in 46 states and containing approximately 11.9 million square feet of gross leasable space.
Further Reading: How Investors Use a Balance Sheet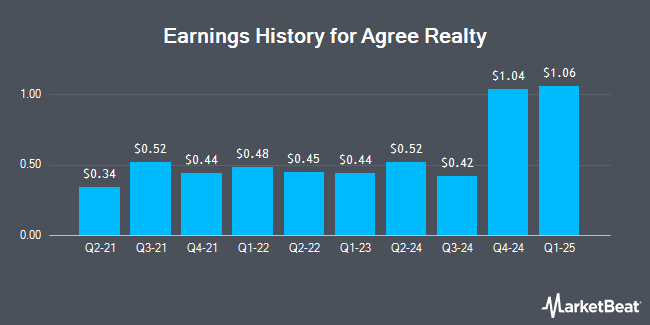 Receive News & Ratings for Agree Realty Daily - Enter your email address below to receive a concise daily summary of the latest news and analysts' ratings for Agree Realty and related companies with MarketBeat.com's FREE daily email newsletter.